How Many Infections Are Too Many?
"Too many infections" may have an underlying cause. If you or your child has more than one of the 10 signs listed below, contact your doctor about the possibility of an immunodeficiency.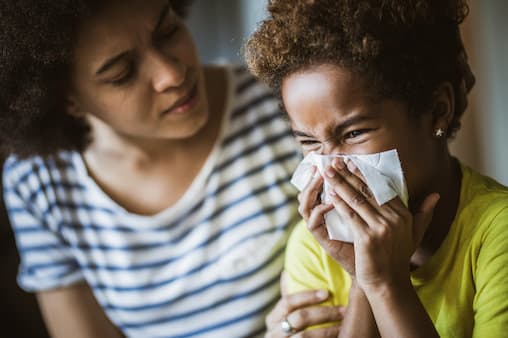 Is the immune system okay? AIDS is the most famous disease affecting the immune system, but there are more than 70 different immunodeficiency diseases that are not caused by viruses. Together they affect millions of people worldwide. They cause children to have frequent infections or infections that are unusually hard to cure. Too often, the underlying immunodeficiency remains undiagnosed.
Jeffrey Modell was one such child. He had numerous bouts with high fevers, nausea, and other symptoms for which no cause could be determined. In between these bouts, he was a healthy, active, optimistic boy. Sadly, he died at age 15 when his immune system could not save him. Today, the Jeffrey Modell Foundation is dedicated to "the early and precise diagnosis, the meaningful treatment, and ultimate cure of primary immunodeficiencies." Experts at the Jeffrey Modell Foundation have developed The 10 Warning Signs of Primary Immunodeficiency. If you or your child has more than one of these signs, contact your doctor about the possibility of an immunodeficiency:
Eight or more new ear infections within 1 year.
Two or more serious sinus infections within 1 year.
Two or more months on antibiotics with little effect.
Two or more pneumonia within 1 year.
Failure of an infant to gain weight or grow normally.
Recurrent deep skin or organ abscesses.
Need for intravenous antibiotics to clear infections.
Two or more deep-seated infections.
A family history of Primary Immunodeficiency.
Because Primary Immunodeficiencies are caused by changes to the DNA, there is no way to prevent them. However, if your child is immunocompromised (or even if they are not!) here are a few tips to help prevent infections: 
Wash hands frequently and thoroughly using soap, especially before eating or after using the restroom.  Practice good handwashing technique with your children.

Take care of your child's teeth. Brush and floss twice daily, and visit the dentist twice a year.

Exercise good sleep hygiene.

Eat healthy and be physically active – at least 30 minutes a day of getting your child's heart pumping is great!

Get your child all recommended vaccines.

Try to avoid exposures (stay away from friends who are sick).
Resources and References
MacGinnitie A. Clinical characteristics of pediatric patients evaluated for primary immunodeficiency. Pediatric Allergy Immunology 2011; 22:671–675.
Sharma D, et al. Approach to a Child with Primary Immunodeficiency Made Simple. Indian Dermatol Online J. 2017; 8(6):391-405. 
Get Dr. Greene's Wellness Recommendations