About DrGreene.com
Our Mission
We are dedicated to using information technology to make pediatric wisdom more accessible than ever before. Our goal is to improve children's health by informing and inspiring those who care for them.
By addressing the connection between the health of our children and the health of the environment, we strive to make a difference for both.
By providing information, wisdom, and perspective, we strive to prepare parents to become knowledgeable partners who can work with their children's physicians in a new and rich way.
We feel strongly that the Internet should enhance, not replace, the partnership between our readers and their own physicians.
Background & History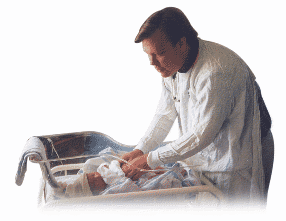 In 1995, Dr. Alan Greene had a thriving pediatric practice in San Mateo, CA. He was known for being an excellent pediatrician who worked with parents and kids on health, prevention, and development issues.
He spent as much time as possible with each family — discussing, diagnosing, and providing health education at each office visit. He also gave his home phone number to many of the families he worked with.
Despite these efforts, he still found that he wasn't able to give each family all that they needed in terms of health care information. He was frustrated and felt that he was covering only the very surface of the great depth of specific health information each individual family needed.
He also found that families were scheduling appointments because "Jason has a runny nose," but what they really wanted to talk about was feeding issues, sleep issues, potty training, or other important parenting issues that health insurance may not cover. His patients would have loved to have more of his time and expertise, but there weren't enough hours in the day. What a dilemma!
DrGreene.com went online in December 1995 to address this need. The AMA has called this the pioneer physician website.
In 1996, after a life-threatening illness in the family, it became clear that providing DrGreene.com as a free, public service was a "calling", not a business.
Parents' thirst to learn about their children's health remains strong around the world. Today we receive visits from millions of people each year, some located on every continent on earth (including Antarctica).
Dr. Greene Quick Notes
Dr. Greene is a graduate of Princeton University and the University of California at San Francisco. Upon completion of his pediatric residency program at Children's Hospital Medical Center of Northern California, he served as Chief Resident. He entered primary care pediatrics in January 1993.
As a father of four, Dr. Greene has devoted himself to freely giving real answers to parents' real questions — from questions about those all too common childhood conditions to those that address the most recent and rare pediatric illnesses. His answers combine cutting-edge science, practical wisdom, warm empathy, and a deep respect for parents, children, and the environment. He is also an electrifying public speaker and has personally touched many during his talks in North America, Europe, Asia, and the Middle East.
In 2010 Dr. Greene founded the WhiteOut Movement to change how babies in the United States are fed. In 2012 he founded TICC TOCC – Transitioning Immediate Cord Clamping To Optimal Cord Clamping. He is also the founder of KidGlyphs iPhone app that provides a tool for young children to express themselves beyond their verbal skills while teaching them important language skills.
TEDx Talks
TEDx Brussels

: "90 seconds to change the world"
TEDx Brussels

: "Rethinking the heart of health"
Media Inquiries
Reporters frequently turn to our own Dr. Alan Greene for advice and information about family health issues, and he appears frequently on TV, radio, websites, and in newspapers and magazines around the world, including such venues as the TODAY Show, Good Morning America, Fox and Friends, The Dr. Oz Show, CNN, ABC, CBS, and NBC network news, NPR, The New York Times, The Wall Street Journal, USA Today, Time Magazine, Parade, Parents, Child, Baby Talk, Working Mother, Better Home's & Gardens, and the Reader's Digest.
Direct media inquiries to media@drgreene.com
Our goal is to improve children's health by inspiring parents to become knowledgable partners who can work with their children's physicians in new and rich ways.
© 1995 - 2023 DrGreene All Rights Reserved