Salad Bar Project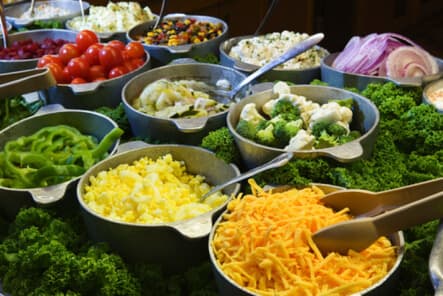 Every Child Deserves Fresh Fruits and Vegetables: The Great American Salad Bar Project
Frequently when I talk to groups about how to get their kids to enjoy food that's good for them, I talk about the smell, taste and feel of the rich, round, red tomatoes that parents all over the world grow in their backyards (watch my short video, The Tomato Theory). I tell parents that one of the best ways to encourage their kids to enjoy fruits and vegetables is to engage them in preparation and serving – as far upstream in the process as possible. Let them help water the seedlings, gently pull the fruit from the vine, carefully slice the veggies for the salad and artfully create a colorful salad for the dinner table. The more children participate in the process, the more willing they will be to discover the fresh tastes (and nutrients!) that await them.
In a perfect world, all children would have access to the wonders of a family garden, and all parents would have enough time to help them discover it. But in today's hectic world, not only do many backyards lack gardens – some kids rarely see fresh foods and healthy grains on their plates at all! More than 30 million children rely on the National School Lunch Program every school day, and the food that's served in many school cafeterias is as far away from "garden fresh" as you can get – nachos, pizza, French fries and other high-fat, low-nutrition fast food staples.
That's why I'm bursting with pride to be the vice president of a nonprofit organization that is launching the Lunchbox Project and the Great American Salad Bar Project. We're working toward a healthy salad bar in every school across America so all kids have access to fresh fruits and vegetables, whole grains and healthy proteins every school day.
Between now and November, schools that are ready to seek to make real, healthy changes to their school cafeterias can apply for one of 300 grants. Each grant recipient will receive the equipment and training they need to set up their salad bars. Whole Foods Market has already raised close to $9 million so far with the goal of sponsoring salad bars in every community their stores serve.
My friend Chef Ann Cooper is the founder of the Food, Family, Farming Foundation, and I'm proud to be on the team that makes her dream a reality and helps bring flavorful, fresh food to our children's tables. When you hear students say things like, "Looking across the vast salad bar options was like looking at an artist's palate," you know this project will teach kids to appreciate the beauty and nutrition of fresh, healthy food.
Take Action!
Get Dr. Greene's Wellness Recommendations