Safe Bedding to Help Prevent SIDS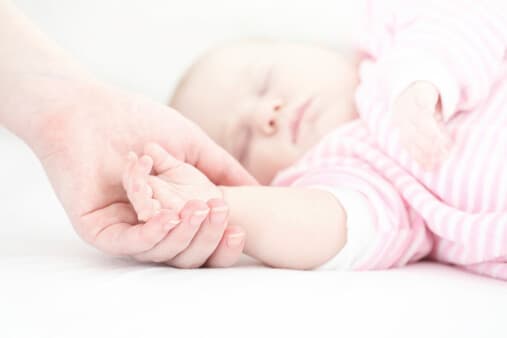 The following are the safe bedding recommendations put out by the U.S. Consumer Product Safety Commission, the American Academy of Pediatrics (AAP), and the National Institute of Child Health and Human Development. The AAP's published its most recent recommendations in 2005 (Pediatrics 116:1245-1255):
Place baby on his/her back on a firm tight-fitting mattress in a crib that meets current safety standards.
Remove pillows, quilts, comforters, sheepskins, stuffed toys, and other soft products from the crib, playpen, or portable crib.
Consider using a sleeper or other sleep clothing as an alternative to blankets, with no other covering.
If using a blanket, put baby with feet at the foot of the crib. Tuck a thin blanket around the crib mattress, reaching only as far as the baby's chest.
Make sure your baby's head remains uncovered during sleep.
Do not place baby on a waterbed, sofa, soft mattress, pillow, or other soft surface to sleep. Some playpens and portable cribs may have soft mattresses.
Do not smoke during pregnancy or around the baby. Smoking significantly increases the risk of SIDS.
The infant's crib or bassinet should be in the same bedroom as the parents, but the infant should not co-sleep in the bed with the parents. The infant may be brought to the bed for nursing or comforting but should be placed back in the crib for sleep. Infants should also not share a bed with other children.
Consider using a pacifier for naptime or bedtime. Use when placing the baby down to sleep but do not reinsert after he or she has fallen asleep. Clean and replace the pacifier often. Wait 1 month before introducing the pacifier in breastfed babies.
Keep the room temperature comfortable for a lightly clothed adult.
Note that commercial devices that are marketed to reduce the risk of SIDS have proven to be effective.
Get Dr. Greene's Wellness Recommendations