Reducing Viral Spread in Schools: France Makes Proactive Move to Measure and Reduce CO2 Levels in School and Daycare
Because humans exhale carbon dioxide, the level of carbon dioxide in an indoor space gives a rough approximation of the exhaled air that people in a room are sharing. The higher the CO2 level, the more likely you are to be breathing air that someone else has exhaled. And if they have a respiratory virus, with symptoms or not, the more likely you are to get sick.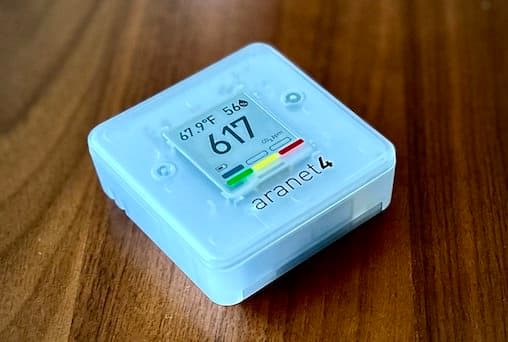 One of my favorite gadgets from the pandemic is the AraNet 4 CO2 monitor. I carry it with me whenever I am curious about an indoor space. This easy-to-use monitor gives a simple red-yellow-green reading of the CO2 level. At a green level (<1000 ppm) it is harder to transmit an airborne viral infection. At a red level (>1400 ppm) it is much easier to catch a virus if someone else in the room is sick.
I use this in restaurants and on airplanes, for instance, to help guide my actions.
As a bonus, CO2 levels also correlate with alertness and productivity. When CO2 levels drift into the yellow range (>1000 ppm), cognitive function decreases 15%. And if it gets into the red range (>1400 ppm) cognitive scores have been shown to drop 50%. Fresh air boosts energy and intellect.
Armed with the information from my AraNet 4, I've learned to open windows or doors, look for high ceilings or upgraded ventilation and for rooms with an appropriate number of people for the space. This fresh air decreases risk of COVID, influenza, RSV and other respiratory function – and makes me less sleepy, more alert, and better functioning. It's impressive how a little change in the windows, for instance, can make a big change in CO2 levels.
Reducing Viral Spread in Schools
On December 27, 2022, France issued a new environmental code for daycares, elementary schools, middle schools and high schools (including areas for sports practice) and for dorms. Going forward, all these facilities must do direct readings of their CO2 concentrations to assess the quality of their fresh air.
A concentration of less than 800 ppm is considered to reflect satisfactory air renewal. If the level is above 800 ppm, the school or daycare must take action to return to satisfactory air renewal. If the level is above 1500 ppm, it is considered urgent, and the school or daycare must act ASAP.
I applaud this change: good ventilation for kids at school is a valuable gift for their minds and bodies.
This new move reminds me of the rise of hay fever and pollen allergies. Before the 19th-century allergies were rare. They were originally known as a rich person's disease. During the 19th century, more and more of the wealthy had closed, well-sealed windows, spent more time indoors and were not exposed to pollens when the immune system was learning what was normal and what was a threat. Perhaps well-ventilated daycares will not only reduce the transmission of viruses but have the welcome side effect of reducing allergies in kids as well.
Celebrate and seek fresh air!
References and Resources
"Associations of Cognitive Function Scores with Carbon Dioxide, Ventilation, and Volatile Organic Compound Exposures in Office Workers: A Controlled Exposure Study of Green and Conventional Office Environments." Environmental Health Perspectives 124 (6): 805-812. doi:10.1289/ehp.1510037. http://dx.doi.org/10.1289/ehp.1510037. 2015
French Environmental Code, Last Accessed Jan. 10, 2023
Get Dr. Greene's Wellness Recommendations