Protection from Past Lead Damage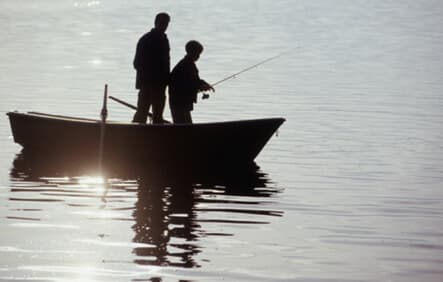 Question
"Scott used to secure the lead weights on his fishing line with a nice hard bite. Yikes! Is the horse out of the barn, or can we do anything now to reverse the effects of the exposure?"
Theresa Pileggi-Proud
Dr. Greene's Answer
Theresa, I'm so glad you asked! When we get lead in our mouths, it makes its way into our bloodstreams where it can cause damage to our brains and other organs. Our bodies take the lead from our blood and store almost all of it in our bones and teeth where it does much less harm. The history of lead exposures throughout our life is often detectable there, telling a story like the rings on a tree.
The lead stays pretty much locked away in our bones, except in three times in our lives when the bones are in transition, and when calcium and lead in our bones re-enter the blood stream: pregnancy, nursing, and aging (osteoporosis).
Convincing placebo-controlled studies have shown that pregnant or nursing women who take extra calcium end up with less lead in their blood – and in their babies. Another study even showed newborns whose mothers had at least 7 glasses of milk a week ended up with lower lead levels at birth.
This made me wonder: might we be able to lower blood lead levels by eating chia seeds, or going for a walk outside, or enjoying a spinach salad, or playing a vigorous game of tennis, or opting for iced tea instead of cola, or choosing the pasta sauce with lower sodium, or asking those who smoke to smoke outside?
We want to do what we can to keep our calcium (and lead) locked in our bones. I suspect that other measures proven to keep our bones strong will also protect us from lead. These are my strong hunches, not tested yet for lead as far as I know (someone please do this!).
My eight suggestions for protecting you from past lead exposures:
1. Be sure to get at least 1000 mg of calcium each day – especially sure if you are pregnant or nursing. The number is higher if you're a teen mom (1300 mg) and again after age 50 for men and women (1200 mg). If you're not getting it in your diet, take a supplement. The women in the studies took a 1200 mg as a supplement, in addition to whatever they got in their diets.
2. Be sure to get plenty of magnesium in your diet. Most of the magnesium in our bodies lives in our bones, and it plays a major role in keeping minerals in our bones. Adult women need at least 310-320 mg per day; adult men need at least 400-420 mg. Magnesium-rich foods include spinach and other dark leafy greens, soy, seeds (pumpkin seeds, sunflower seeds, sesame seeds, and especially chia seeds), beans, broccoli, almonds, salmon, and halibut. If you take a calcium supplement, you might want to choose one with calcium and magnesium.
3. Be sure you're getting plenty of vitamin D to keep your bones strong. Again, if you're not getting plenty from the sun or your diet, I suggest a supplement – 1000 IU a day.
4. Be sure you're getting plenty of vitamin K in your diet. Adult women need at least 90 mcg per day; adult men need at least 120 mcg. Vitamin K is vital for bone health and for getting the most out of vitamin D. Vitamin K-rich foods include spinach, broccoli, romaine lettuce, asparagus, green beans, peas, carrots, cauliflower, and tomatoes. If you're taking a vitamin D supplement, you might want to choose one with vitamins D and K.
5. Be sure to get weight-bearing exercise. This helps to keep your calcium in your bones. Walk at least 30 minutes a day.
6. Avoid too much soda. Several studies link consumption of some soft drinks with losing minerals from the bones. Some argue that the link is not from the sodas themselves, but form other nutrients they replace. Even if they don't weaken bones, they do seem to promote movement of minerals in and out of bones.
7. Avoid too much sodium. Most Americans, adults and children, get far too much sodium in their processed foods. Too much sodium is not just bad for your heart, it's bad for your bones and can cause bone loss.
8. Avoid cigarette smoke. Tobacco smoke can directly damage bone cells, and can decrease absorption of calcium in your diet, making it more likely you try to pull some out of your bones.
For Our Children
When I initially wrote this list, I was thinking of parents wanting to protect themselves from past exposures. But having completed it, I think all eight suggestions are even more important for children themselves. They tend to have more to lose from lead (they're more susceptible to its toxic effects), they tend to have higher lead levels, and they have bones that are more actively modeling and remodeling.
Let's make it a priority to reduce toxic exposures where we can, but also to enjoy the benefits of great food and great exercise in preventing or reversing the damage of the toxins.
Note: Re-read all eight on the list for your children – but kids need:
Calcium – 800 mg from 4 to 8 – 1300 mg from 9 to 18
Magnesium – 130 mg from 4 to 8 – 240 mg from 9 to 13
Vitamin D 400 IU
Vitamin K – 55 mcg from 4 to 8 – 60 mcg from 9 to 13
At least an hour a day of active play
Even less soda!
Even less sodium – and certainly never more than 1900 mg a day
No exposure to second or third hand smoke.
How are we doing? Most kids don't get enough calcium. Many don't get enough vitamin D. Many don't get enough active play. And far too many get too much soda, sodium, and exposure to tobacco. We can't change the past, but we can change the effects of the past!
Ettinger, A.S., Hu, H., and Hernandez-Avila, M. "Dietary Calcium Supplementation to Lower Blood Lead Levels in Pregnancy and Lactation." Journal of Nutrition Biochemistry , Mar 2007, 18(3):172-178.
Ettinger, A.S., Lamadrid-Figueroa, H., Tellez-Rojo, M.M., Mercado-Garcia, A. Peterson, K.E., Schwartz, J., Hu, H., and Hernandez-Avila, M. "Effects of Calcium Supplementation on Blood Lead Levels in Pregnancy: A Randomized Placebo-Controlled Trial." Environmental Health Perspectives, Jan 2009, 117(1):26-31.
Ettinger, A.S., Tellez-Rojo, M.M., Amarasiriwardena, C., Pterson, K.E., Schwartz, J., Aro, A., Hu, H., and Hernandez-Avila, M. "Influence of Maternal Bone Lead Burden and Calcium Intake on Levels of Lead in Breast Milk over the Course of Lactation." American Journal of Epidemiology, 1 Jan 2006, 163(1):48-56.
Hernandez-Avila, M., Sanin, L.H., Romieu, I., Palazuelos, E., Tapia-Conyer, R., Olaiz, G., Rojas, R., and Nvarrete, J. "Higher Milk Intake during Pregnancy is Associated with Lower Maternal and Umbilical Cord Lead Levels in Postpartum Women." Environmental Research, 1997, 74(2):116-21.
Jacobsson, H. "Short-time Ingestion of Colas Influences the Activity Distribution at Bone Scintigraphy: Experimental Studies in the Mouse." Journal of the American College of Nutrition, 2008, 27(2):332-336.
Libuda, L., Alexy, U., Remer, T., Stehle, P., Schoenau, E., and Kersting, M. "Association Between Long-Term Consumption of Soft Drinks and Variables of Bone Modeling and Remodeling in a Sample of Healthy German Children and Adolescents." American Journal of Clinical Nutrition, Dec 2008, 88(6):1670-1677.
Tucker, K.L., Morita, K., Qiao, N., Hannan, M.T., Cupples, L.A., and Kiel, D.K. "Colas, But Not Other Carbonated Beverages, Are Associated with Low Bone Mineral Density in Older Women: The Framingham Osteoporosis Study." American Journal of Clinical Nutrition. Oct 2006, 84(4):936-942.
Get Dr. Greene's Wellness Recommendations