Nipple Creams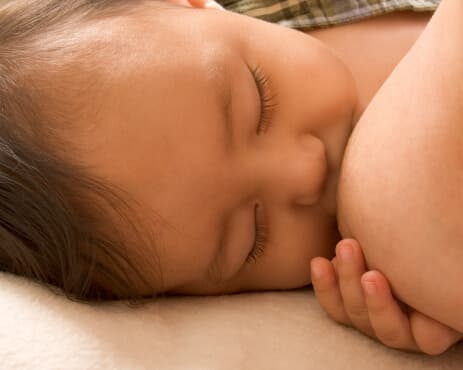 Dr. Greene's take on nipple creams…
The FDA warned on May 23, 2008 that using Mommy's Bliss Nipple Cream may harm nursing babies, citing concerns about toxic ingredients potentially causing serious side effects such as "difficulty in awakening the child, limpness of extremities or a decrease in an infant's strength of grip and a change in skin color." The problem ingredients are a common preservative (phenoxyethanol) and a common neurotoxin (chlorphenesin) not intended for oral use. Many nursing mothers never need a nipple cream. Some, though, have dry, cracked, bleeding, or sore nipples that need relief. The first step is to look for the cause; small adjustments in positioning or latch-on, for instance, may solve the problem.
To speed healing, breast milk itself may do the trick. Simply express a little more milk after feeding and rub it into the nipples. But what are some good options for those who need an ointment or cream? Because the breast goes in the baby's mouth, you want something extremely safe. I suggest avoiding Vaseline, Bag Balm, Udder Cream, A and D Ointment, baby oil, vitamin E oil, and anything petroleum- or alcohol-based. But there are plenty of safe options. The Environmental Working Group has found both the active and inactive ingredients to be quite safe in the following products: Lansinoh Brand Lanolin for Breasfeeding Mothers, CVS Lanolin Cream, Shan Nip, Lip, and Eye Balm, Motherlove Herbal Company Nipple Cream, Earth Mama Angel Baby Natural Nipple Butter (Bosom Buddies), Agoo Agii Breast Care, THE KNOWING TOUCH, Belli Pure Comfort Nursing Cream, Mother& Child Calendula Nursing Ointment, Healing-Scents Calendula Ointment, and ThatGlow Nipple Nourish. Note: Not all lanolin creams on the market are pure. Lansinoh Brand is very pure, and is the only nipple cream endorsed by La Leche League. Prescription ointments or creams may be necessary if there is a persistent bacterial or yeast infection on the nipples.
FDA News. FDA Warns Consumers Against Using Mommy's Bliss Nipple Cream: Product can be harmful to nursing infants. May 23, 2008.         
Get Dr. Greene's Wellness Recommendations