Lights Out for Earth Hour!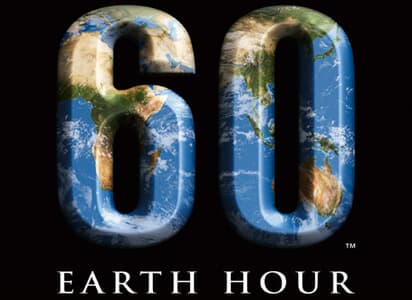 All this week we've been talking purple for Purple Day, but Saturday night, we're switching to black. On Saturday, March 28, millions of individuals and businesses around the globe will be switching off their lights for an hour at 8:30 p.m. for Earth Hour 2009. The goal is to send a strong message to policy makers as they create legislation to address global warming, and each person who participates is showing support for change.
Earth Hour began in Sydney in 2007, when 2.2 million homes and businesses switched off their lights for one hour. In 2008 more than 50 million people participated in Earth Hour, and we watched many global landmarks go dark, including the Golden Gate Bridge in San Francisco, Rome's Colosseum, the Sydney Opera House and the Coca Cola billboard in Times Square. (Watch the video here…)
In 2009, hundreds of millions of people took part in the third Earth Hour. Over 4000 cities in 88 countries officially joined the effort, making Earth Hour 2009 the world's largest global climate change initiative to date.
Earth Hour is a great way to teach your little ones about the environment and how we can all help, and it has the added bonus of distraction-free family time. Have your family help prepare a flavor-rich meal that will delight the senses as you eat by candlelight. You can slice veggies into fun shapes and have the kids guess what they're eating. Or invite a couple of neighbors over for a backyard evening adventure – maybe s'mores by a campfire? On Sunday, visit the Earth Hour websites for a review of the event's success, and share the articles and news with your family to show them how much we can do when we all come together.
Get Dr. Greene's Wellness Recommendations