Great Food Can Improve Brain Development (Even Before Birth)
Great food can improve neurodevelopment and brain function.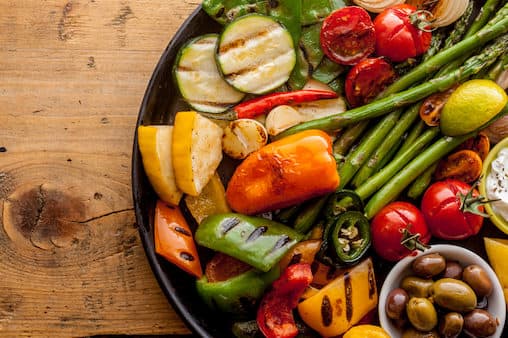 What we eat – and what our kids eat – affects so much in life: appearance, energy, cognition, focus, mood, how often we get sick, how quickly we get better, how likely we are to develop a chronic disease, and how we age.
Every bite of food is either an investment in our future, a new debt we are taking out, or some of both.
There are many ways to enjoy the benefits of real food. One healthy way of eating that has been studied a lot is the Mediterranean diet, a diet rich in fruits, vegetables, whole grains, beans, nuts, seeds, fish, herbs, spices, and olive oil. Red meats, processed foods, and added sugars are limited.
Long-term enjoyment of a Mediterranean diet has been linked to many great benefits, including better cognitive function, better memory, better mood, and better quality of life (as well as a lower chance of neurodegenerative diseases in the elderly).
The Mediterranean diet's cognitive benefits might spring from its anti-inflammatory and antioxidative properties. It has been linked with reduced oxidative stress, which plays a crucial role in both neurodevelopment and the prevention of neurodegenerative diseases.
Key nutrients in this diet that contribute to cognitive health include omega-3 fatty acids and polyphenols. Essential fatty acids, particularly omega-3 fatty acids found in fish and nuts, have been associated with improved brain function and reduced risk of cognitive decline and dementia. Polyphenols, abundant in fruits, vegetables, and olive oil, have antioxidant properties that may enhance neurodevelopment and protect against neurodegenerative diseases.
Any time is a great time to start enjoying delicious real food – even later in life – but the earlier the better. A 2023 randomized study of pregnant women showed measurable benefits from a Mediterranean diet even before birth!
This was a study of 626 children whose mothers were randomized during pregnancy to have either routine care, a Mediterranean diet, intervention or a mindfulness-based stress reduction program (which also showed benefit).
Those in the Mediterranean diet group had 90-minute visits with nutritionists each month for 3 months. At each visit they received 2 liters of extra virgin olive, a pound of walnuts, 4 weekly fresh, seasonal shopping lists, and all recipes, meal plans, and menus.
When their babies were two years old, the babies in the stress reduction group had improved social-emotional development compared to those who just had routine care. Those in the Mediterranean diet group scored higher on both social-emotional development and cognitive development.
Great food can improve neurodevelopment and brain function. Today is the best day to start.
Crovetto F, Nakaki A, Arranz A, et al.Effects of a Mediterranean Diet or Mindfulness-Based Stress Reduction During Pregnancy on Child Neurodevelopment. JAMA Network. 2023;6(8): e2330255. doi:10.1001/jamanetworkopen.2023.30255
Zaragoza-Martí A, Ruiz-Ródenas N, Herranz-Chofre I, et al. Adherence to the Mediterranean Diet in Pregnancy and Its Benefits on Maternal-Fetal Health: A Systematic Review of the Literature. Frontiers in Nutrition. 2022;9:813942. doi:10.3389/fnut.2022.813942.
Biagi C, Nunzio MD, Bordoni A, Gori D, Lanari M. Effect of Adherence to Mediterranean Diet During Pregnancy on Children's Health: A Systematic Review. Nutrients. 2019;11(5):E997. doi:10.3390/nu11050997.
Bhushan A, Fondell E, Ascherio A, et al. Adherence to Mediterranean Diet and Subjective Cognitive Function in Men. European Journal of Epidemiology. 2018;33(2):223-234. doi:10.1007/s10654-017-0330-3
Siervo M, Shannon OM, Llewellyn DJ, Stephan BC, Fontana L. Mediterranean Diet and Cognitive Function: From Methodology to Mechanisms of Action. Free Radical Biology & Medicine. 2021;176:105-117. doi:10.1016/j.freeradbiomed.2021.09.018.
Godos J, Grosso G, Ferri R, et al.
Mediterranean Diet, Mental Health, Cognitive Status, Quality of Life, and Successful Aging in Southern Italian Older Adults. Experimental Gerontology. 2023;175:112143. doi:10.1016/j.exger.2023.112143.
Klimova B, Novotny M, Schlegel P, Valis M.
The Effect of Mediterranean Diet on Cognitive Functions in the Elderly Population. Nutrients. 2021;13(6):2067. doi:10.3390/nu13062067.
Dobreva I, Marston L, Mukadam N. Which Components of the Mediterranean Diet Are Associated With Dementia? A UK Biobank Cohort Study. GeroScience. 2022;44(5):2541-2554. doi:10.1007/s11357-022-00615-2.
Lutski M, Weinstein G, Ben-Zvi S, Goldbourt U, Tanne D.
Adherence to Mediterranean Diet and Subsequent Cognitive Decline in Men With Cardiovascular Disease. Nutritional Neuroscience. 2022;25(1):91-99. doi:10.1080/1028415X.2020.1715049.
Radd-Vagenas S, Duffy SL, Naismith SL, et al. Effect of the Mediterranean Diet on Cognition and Brain Morphology and Function: A Systematic Review of Randomized Controlled Trials. The American Journal of Clinical Nutrition. 2018;107(3):389-404. doi:10.1093/ajcn/nqx070.
Van Horn L, Carson JA, Appel LJ, et al. Recommended Dietary Pattern to Achieve Adherence to the American Heart Association/American College of Cardiology (AHA/ACC) Guidelines: A Scientific Statement From the American Heart Association. Circulation. 2016;134(22):e505-e529. doi:10.1161/CIR.0000000000000462.
Get Dr. Greene's Wellness Recommendations