Food Pyramid Nightmare Journey – Part 2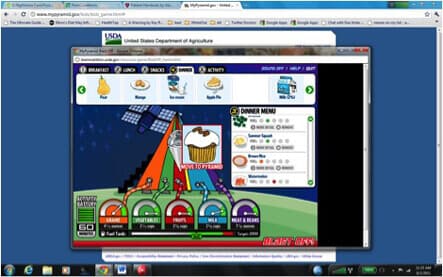 Could the Food Pyramid get any worse? After my surprising first experience, I returned to FoodPyramid.gov for kids on June 2, 2011, determined to live a healthier lifestyle and to try to get my 11-year-old weight under control – despite the Food Pyramid Blast Off Game's assurances that my previous sugar cereal with chocolate milk, double orders of fries, fried chicken with double orders of gravy, 0 whole grain, 0 real fruit, 0 real veggies diet was optimal.
Trying to Be Good
This time I chose whole grain oatmeal for breakfast with a banana and non-fat milk.
For lunch I had healthy vegetarian chili and a spinach salad, with fresh strawberries for dessert.
I completed a 10k race in the afternoon in my best time ever: 55 minutes.
My post-race snack included orange slices, string cheese, and whole grain crackers.
I was hungry at dinner time! I chose grilled fish, whole grain brown rice, broccoli, and summer squash, with 2% milk to drink and watermelon cubes for dessert.
I was excited to push the Blast Off button and get feedback on my day. Imagine my disappointment when my rocket crashed!
Crash and Burn!
My problem? The 10k race for 55 minutes didn't count as much as an hour of setting the table, cleaning up my room and other household chores. I could fix that! I lied and said the race took 60 minutes.
I pushed the Blast Off button again. And failed! My rocket crashed again because my food fuel wasn't good!
They told me I had "Grain Drain". My bowl of whole grain oatmeal, the croutons in my spinach salad, my whole grain crackers, and my bowl of whole grain brown rice weren't enough — and weren't as good as my excess sugar cereal and white bread yesterday.
Luckily I Had a Parachute
Having crashed twice, I got the message. I went back to try again, and added a frosted cupcake to my dinner, even though I was already very full.
And that did the trick! A frosted cupcake was all it took to fix my inadequate dinner of grilled fish, brown rice, broccoli, summer squash, and watermelon cubes. Who would have thought?
The Other Side of the Nightmare
So, I hate the Food Pyramid for kids for two reasons: it both congratulates bad food and fails to reward great food. As a teaching tool, it failed. Our kids' nutrition (and waistline) got worse. But that's what happens when the focus is on numbers first and not food quality first.
Nutritional Intelligence is one of the most important skills we can cultivate in our kids – the ability to recognize and enjoy healthy amounts of good food.
Measured by its ability to encourage Nutritional Intelligence, the pyramid flunked – but the Food Plate holds promise. Even if you disagree with the proportions they chose for the plate or side circle, it can be a powerful image for getting your plate the way you want it. I welcome the new Food Plate as a fresh way to look at our own plates and envision them filled with healthy portions of great food.
Alan's Full Menu from his Nightmare Food Pyramid Journey.
Get Dr. Greene's Wellness Recommendations