How is your food grown?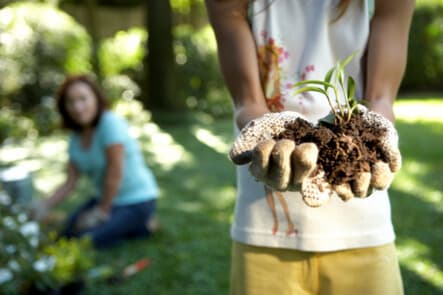 We've established that kids develop differently depending on how they are nourished. Now let's return to how the food they eat is, in turn, affected by what materials are available to grow it.
For instance, cheese, milk, and meat can provide high levels of DHA and omega 3's (as well as providing high levels vitamin E and beta carotene) if it's produced from pasture-fed organic cows, but not from grain-fed confinement cows4. Simply put, fresh grass provides the building blocks for a different quality of product.
Iron is another nutrient that is essential to optimal brain function. We know from a large body of previous research that school-aged children who are iron deficient don't learn as well. School performance is worse; memory is weakened. Girls are more likely to suffer from anemia, but many non-anemic girls are seriously affected by slightly low iron levels. Today in the U.S., we are seeing iron deficiency at a level that impacts intellectual growth in as many as 1 in 6 girls at some point in their school careers. Other studies have shown that teen girls who have low iron are more than twice as likely as similar girls with normal iron levels to score below average in mathematics achievement tests5.
Here's a very interesting study reported in the December 2004 Archives of Pediatrics and Adolescent Medicine – the first to connect children's iron levels and ADHD6.
ADHD has become a major problem, increasingly affecting school classrooms in recent years. Between March 2002 and June 2003, 110 children from the same school district in Paris, France were referred to a university hospital to be evaluated for school-related problems. Fifty-three of these children met the criteria for a definite diagnosis of ADHD. Researchers analyzed blood samples from these children and from 27 of the other children who did not turn out to have ADHD. The average ferritin (iron) level in the non-ADHD kids was normal, but the average level in the children with ADHD was about half that of the other children. Fully 84 percent of the children with ADHD were iron deficient, with ferritin levels less than 30 ng/ml. And the lower the serum ferritin was in this study, the worse the ADHD symptoms – worse hyperactivity, worse oppositional behavior, and worse cognitive scores.
The stunning part of this study was that none of the children had iron levels low enough to indicate anemia. The iron deficiency was subtle enough that all tested normal on the hemoglobin or hematocrit blood tests used in doctors' offices to screen for iron problems. I suspect that inadequate iron in the diet is also affecting the attention, focus, and activity of many children who don't meet the full definition of ADHD.
When other researchers fed appropriate iron to children with ADHD, their test scores and ADHD symptoms improved.
The amount of iron children get from foods depends not just on what types of food they choose, but on how that food is grown. Recent evidence has shown that conventional, chemical farming has resulted in depleted nutrients in common food crops. Levels of vitamins and minerals (including iron) have fallen over the last fifty years, as this type of agriculture prevailed7.
Read More From This Series:
Part 1 – Brain Food For Your Kids: How Do You Score?
Part 2 – From Backyard Gardens to Kindergartens
Part 3 – Brain Building
Part 4 – How is your food grown?
Part 5 – Antioxidants – Extra Credit
Part 6 – How Our Food Is Processed
Part 7 – Refined Sugars and Flours
Part 8 – School Fuel: Homework for Parents
Part 9 – How Much Does a Child Need Each Day?
References:
4 Bergamo, P, et al. 2003. Fat-soluble vitamin contents and fatty acid composition in organic and conventional Italian Dairy products. Food Chemistry. 82625-631.
Dewhurst R, Fisher W, Tweed J, Wilkins R. 2003. Comparison of grass and legume silages for milk production. Journal of Dairy Science. 86, 2598-2611.
Ellis KA, Innocent G, Grove-White D, Cripps P, McLean WG, Howard CV, Mihm M. 2006. Comparing the fatty acid composition of organic and conventional milk. Journal of Dairy Science. 89:1938-1950. Holm J. March 2, 2005. Danish Institute of Agricultural Sciences. New research proves organic milk is higher in vitamins and antioxidants than non-organic milk. Soil Association Release.
Robertson J and Fanning C. University of Aberdeen. December 8, 2004. Omega 3 Polyunsaturated Fatty Acids in Organic and Conventional Milk. University of Aberdeen Press.
5 Dietary Reference Intakes for Vitamin A, Vitamin K, Arsenic, Boron, Chromium, Copper, Iodine, Iron, Manganese, Molybdenum, Nickel, Silicon, Vanadium, and Zinc (2000) Food and Nutrition Board (FNB) Institute of Medicine (IOM) Hatteman JS, et al. 2001. Iron deficiency and cognitive achievement among school-aged children and adolescents in the United States. Pediatrics. IOM. 1993. Iron Deficiency Anemia: Recommended Guidelines for the Prevention, Detection, and Management Among U.S. Children and Women of Childbearing Age. Washington, DC: National Academy Press.
Lozoff B, Jimenez E, Hagen J, Mollen E, Wolf AW. 2000. Poorer behavioral and developmental outcome more than 10 years after treatment for iron deficiency in infancy. Pediatrics 105:E51. Nokes C, van den Bosch C, Bundy DAP. 1998. The Effects of Iron Deficiency and Anemia on Mental and Motor Performance, Educational Achievement, and Behavior in Children. The International Nutritional Anemia Consultative Group. Washington, DC: ILSI Press. Walter T, Kovalskys J, Stekel A. 1983. Effect of mild iron deficiency on infant mental developmental scores.J Pediatr 102:519–522.
6 Konofal E, Lecendreux M, Amulf I, Mouren MC. 2004. Iron deficiency in children with attention deficit hyperactivity disorder. Archives of Pediatrics and Adolescent Medicine. 158:1116-1124.
7 Davis D, Epp, M, Riordan H. Changes in USDA Food Composition Data for 43 Garden Crops, 1950 to 1999. Journal of the American College of Nutrition, 23(6) Dec 2004.
Get Dr. Greene's Wellness Recommendations