The Dangers of Balloons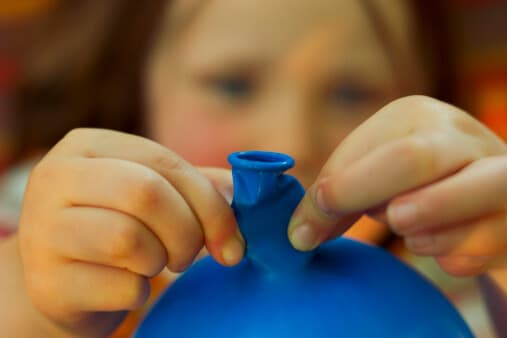 Believe it or not, balloons cause more childhood deaths than any other toy.
That's right. Balloons!
This shocking fact was established by a study conducted by Children's Hospital of Pittsburgh in conjunction with DuPont Institute, and Inchcape Testing Services Risk Analysis and Management. They looked at the shape, consistency, and size of objects that caused choking deaths in 449 children. Findings from this study include: objects that pass the Small Parts Test Fixture (the cylinder with a diameter of 3.17 cm that is used to gauge the safety of small toys) can cause choking. The biggest culprits in this category are spherical objects such as balls and marbles or objects that have spherical parts such as dolls with spherical heads. Far more dangerous, however, are objects that have the ability to conform to the shape of a child's airway, such as balloons and disposable diaper stuffing. Of additional concern is the fact that the number of deaths caused by children inhaling a portion of a balloon are still very high in the 3 – 6 year-old range, which we consider out of danger from choking.
Here are the take home lessons —
Don't assume a toy is safe for a child to play with just because it passes the SPTF test.
Don't assume a child is in the safe range just because he or she is over three years old.
If a whole object or a round portion of an object will fit into your child's mouth, watch him very closely whenever he plays with it.
Never let a child play with a balloon when you are out of the room.
Mylar and paper balloons are far safer than latex balloons.
Stay current on Infant and Child First Aid and CPR — the life you save may be very dear to you!!!
Get Dr. Greene's Wellness Recommendations