Wild Rice and Apple Salad Recipe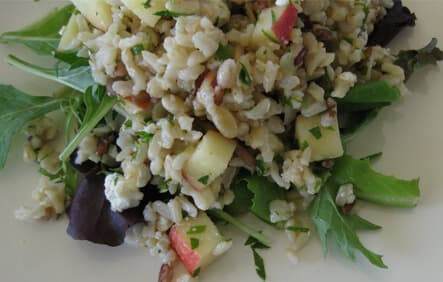 ti Throw whatever happens to be in the fridge, (parsley, dried cranberries, pine nuts and crumbled goat cheese this time), and you'll have a healthy and filling meal in mere minutes. Wild rice with chicken or vegetable stock and a pat or two of butter really makes a world of difference.
This salad can be made with any grain, try it with quinoa, brown rice, farro, etc. There are no rules for this salad – here's your chance to get creative and clean out that fridge all at the same time. Enjoy!
Wild Rice and Apple Salad Recipe Summary
Cuisine: American
Course: Salad
Skill Level: Easy
Ingredients
2 cups cooked brown rice
1 apple – I like Gala or Fuji
1/2 cup nuts, I like pine nuts or walnuts
1 Tbls (or more) chopped fresh herb such as parsley, mint, basil
Handful of dried cranberries
Crumbled goat cheese, or feta – to your liking
Salt and pepper
Olive oil
Lemon juice
Nutritional Information
Calories: 252
Protein: 6
Fat: 14
Sodium: 16
Carbohydrates: 27
Fiber: 4
Sugar: 5
Cholesterol:
Directions
Combine everything in a large bowl.
Season with salt and pepper, and drizzle with olive oil (or walnut oil) and fresh lemon juice – adjust to your liking.
Serve over a bed of mixed baby greens.
Get Dr. Greene's Wellness Recommendations