Tasty Vegetable and Tofu Quesadillas Recipe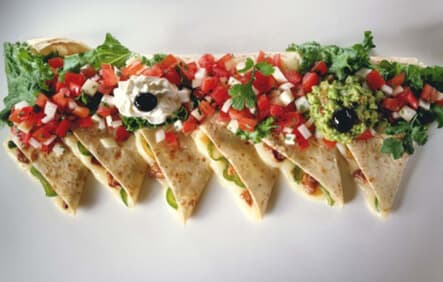 You can cut these vegetable and tofu quesadillas into quarters and serve on a small platter. They look so humble, who could know how tasty they are?
Tasty Vegetable and Tofu Quesadillas Recipe Summary
Cuisine: Mexican
Course: Appetizer
Skill Level: Easy
Makes: 8 Quesadillas
Servings: 4
Prep Time: 10-15 minutes
Cook Time: 13-15 minutes
Ingredients
5 Tbsp olive oil
3 medium zucchini, diced
1 plum tomato, seeded and diced
1 1/2 teaspoons reduced-sodium soy sauce or Tamari
1 tsp dried crumbled oregano
Freshly ground black pepper
12-ounces firm tofu, drained and diced
2 cups (8-ounces) shredded or thin sliced mozzarella cheese
8 fresh whole wheat tortillas
Nutritional Information
Calories: 262
Protein: 12
Fat: 17
Sodium: 214
Carbohydrates: 15
Fiber: 2
Sugar: 1
Cholesterol:
Direcitons
Preheat the oven to 400º.
Line a large baking sheet with foil.
In a 12-inch skillet, heat 2 tablespoons of the olive oil over medium-high heat.
Add the zucchini, tomato, soy sauce, herb, and few grinds of pepper. Cook 5 minutes to soften and brown slightly, stirring a few times.
Add the tofu; gently stir to combine and warm.
Remove pan from the heat.
Lay out the tortillas on the work surface and divide the filling equally between them, spreading in an even layer on the lower half of the tortilla.
Sprinkle the cheese on top of the vegetable-tofu mixture and fold over to make a half-moon shape.
Place on the baking sheet.
Place the remaining 3 tablespoons of olive oil in a small bowl and lightly brush both sides of the quesadillas with it.
Place in the oven and bake until hot, crisped, and cheese is melted, about 8 minutes.
Serve immediately, 2 quesadilla halfmoons for each persons, and cut into halves or thirds, if desired.
Get Dr. Greene's Wellness Recommendations