Sunday Brunch Rosemary-Lemon Biscuits Recipe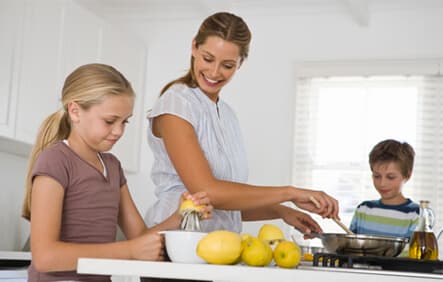 There are a handful of standard recipes that you can teach your children, so that no matter where or in what situation, they can create from scratch something that will make people happy. This Rosemary-Lemon Biscuits Recipe is one of them. Everyone loves warm biscuits. These drop biscuits are the easiest to prepare, with no need for kneading or rolling the dough. Note from the Greene's: We LOVE this recipe. It's a special Sunday brunch treat.
Sunday Brunch Rosemary-Lemon Biscuits Recipe Summary
Cuisine: American
Course: Bread
Skill Level: Moderate
Ingredients
1 cup, Buttermilk
1 large egg
Zest of one lemon
2 cups organic whole wheat pastry flour
1 Tbsp baking powder
1/2 cup butter, unsalted
1 tsp sea salt
Nutritional Information
Calories: 274
Protein: 7
Fat: 17
Sodium: 387
Carbohydrates: 25
Fiber:
Sugar: 2
Cholesterol:
Direcitons
Preheat the oven to 375ºF.
Line a baking sheet with parchment paper.
In a small bowl, combine the buttermilk, egg, lemon zest, and rosemary.
In a medium bowl, combine the flour, baking powder, and salt.
Grate the butter into the mixture.
Using your hands or a pastry blender, work the butter into the flour mixture until the pieces are about the size of peas.
Form a well in the center of the flour mixture and stir in the buttermilk mixture just until blended.
Drop the batter by heaping tablespoons onto the prepared baking sheet to form 12 biscuits.
Bake for 12 to 15 minutes, or until golden and a wooden pick inserted in the center of a biscuit comes out clean.
Get Dr. Greene's Wellness Recommendations