Spicy Pescado al Cilantro Recipe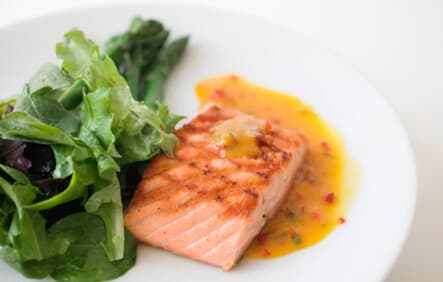 This spicy pescado al cilantro recipe is of a Mexican style, but simpler. The sauce is spicy, and the jalapeños are salty, so there's no need to add salt during preparation.
Spicy Pescado al Cilantro Recipe Summary
Cuisine: Mexican
Course: Entrée
Skill Level: Easy
Makes: 4 Fillets
Servings: 4
Prep Time: 5
Cook Time: 5-10 minutes
Ingredients
4 fillets of firm, white-fleshed fish, such as flounder, tilapia, cod or haddock
2/3 cup cilantro leaves, rinsed and de-stemmed
2 cloves garlic, peeled and chopped
6 tablespoons pickled jalapeño peppers, with the juice (about 2/3 of a 7-ounce can)
Black pepper to taste
Lemon wedges and additional cilantro leaves for garnish
Nutritional Information
Calories: 261
Protein: 51
Fat: 5
Sodium: 196
Carbohydrates: 1
Fiber:
Sugar:
Cholesterol:
Directions
Preheat the broiler.
Put the cilantro leaves, garlic, and pickled jalapeños with their juice into a blender. Process them into a paste.
Place the fish onto a broiler pan and spread the blended sauce over the fillets. Grind black pepper over them.
Broil for 5 to 10 minutes, depending on the thickness of the fillets, until just cooked through.
Sprinkle additional cilantro leaves over cooked fillets for garnish, and serve with cut lemon wedges.
Get Dr. Greene's Wellness Recommendations