Seared Sea Scallops with Creamy Carrot Puree Recipe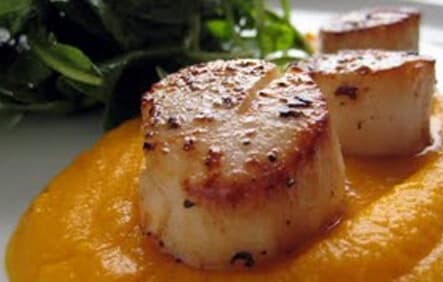 Seared sea scallops are delicious, fancy and take about 5 minutes to cook! Non-stick pans and medium-high heat work the best, but if you would like to avoid teflon, turn your heat down to medium and cook just a touch longer. Like most seafood, avoid overcooking. Scallops should come off when they are firm and bouncy, without being hard.
Seared Sea Scallops with Creamy Carrot Puree Recipe Summary
Cuisine: American
Course: Entrée
Skill Level: Moderate
Makes: 1 1/2 cups carrot puree and 16 Scallops
Servings: 4
Prep Time: 15-20 minutes
Cook Time: 15 minutes
Ingredients
1 Tbsp extra virgin olive oil
1 shallot, diced (approximately 1/4 cup)
2 clove of garlic, minced (approximately 1 tsp)
4 medium carrots, peeled and cut into 1/4″ rounds (approximately 2 cups)
1/2 cup water
generous pinch of cayenne pepper
juice of 1 orange (approximately 1/2 cup)
1 Tbsp butter
16 medium sea scallops or 12 large sea scallops
3 Tbsp ghee *
1/2 tsp sea salt, plus additional sea salt to taste
fresh cracked black pepper
Nutritional Information
Calories: 302
Protein: 27
Fat: 12
Sodium: 681
Carbohydrates: 16
Fiber: 4
Sugar: 9
Cholesterol:
Direcitons
To create the Creamy Carrot Puree
In a large non-stick saute pan over medium heat, warm extra virgin olive oil until just glistening and add diced shallots. Turn the heat down slightly to avoid burning the delicate oil and browning the shallot. Sweat shallots for 2-3 minutes until slightly softened, while stirring occasionally.
Add garlic, stirring until fragrant.
Add carrots, water, sea salt and cayenne.
Raise heat to bring liquid to a boil.
Reduce heat to medium-low, cover and cook until carrots are just tender, approximately 10 minutes.
Check to make sure the liquid is maintaining a rolling simmer.
Once tender, carefully pour sauce into a blender with the orange juice and blend until creamy.
Pour sauce into a small saucepan.
Add butter and stir until melted.
Re-season with sea salt to taste.
Set pan over low heat while you cook the scallops. Makes 1 1/2 cups of carrot puree.
To cook the Sea Scallops
Return your attention to the original large non-stick saute pan. Wipe pan out with a paper towel.
Rinse the sea scallops, pat dry and add sea salt & fresh cracked pepper to both sides.
Heat pan to medium-high heat. Add ghee and whole clove of garlic until just glistening. Oil will heat quickly.
Add sea scallops and remove garlic clove and discard (it has done it's work by flavoring the oil.)
Cook medium scallops 1-2 minutes per side and large scallops 2 minutes per side. When you begin cooking scallops, they are translucent and squishy. Scallops are done when they are firm and slightly opaque, but not hard.
Note
* Note: Ghee, or clarified butter, is made by boiling and straining traditional butter to remove the milk solids. I choose Ghee, when available, because it is one of the few unrefined oils with a high cooking temperature, perfect for searing. Ghee is available in many natural grocery stores.
Get Dr. Greene's Wellness Recommendations