Savory Smoked Paprika Almonds Recipe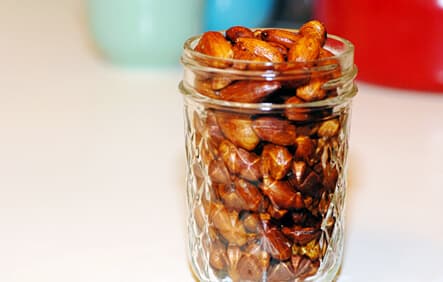 This recipes for smoked paprika almonds uses raw, organic almonds and plenty of yummy spices. These are a real treat to your taste buds. And as an extra bonus, your house smells wonderful after making these!
Savory Smoked Paprika Almonds Recipe Summary
Cuisine: California Cuisine
Course: Snack
Skill Level: Easy
Makes: 3 cups
Servings: 12
Prep Time: 5 minutes
Cook Time: 10 minutes
Ingredients
2 Tbsp olive oil
2 cloves garlic
3 cups whole raw almonds
2 tsp smoked paprika
1 tsp celtic sea salt
¼ tsp chili powder
¼ tsp cayenne
Nutritional Information
Calories: 221
Protein: 7 g
Fat: 19 g
Sodium: 155 mg
Carbohydrates: 9 g
Fiber: 5 g
Sugar: 1 g
Directions
Heat the olive oil in a large skillet over medium heat (I used my cast iron skillet, though any skillet will work).
Add garlic to the skillet and saute for 3-5 minutes, until the garlic is almost brown. If your garlic begins to burn at any time, be sure to remove it or the burnt garlic flavor will ruin this dish.
Add the smoked paprika, salt, chili and cayenne and stir to make a paste.
Add the almonds and stir constantly until they are thoroughly coated.
Continue toasting the almonds in the skillet until they are fragrant, about 5 minutes.
Remove from heat and allow the nuts to cool in the pan.
Get Dr. Greene's Wellness Recommendations