Power Pancakes Recipe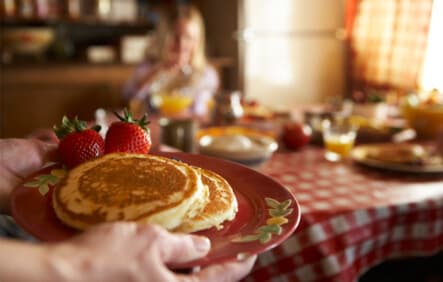 Bananas, cottage cheese, and wheat germ turn ordinary pancakes into a nutrition-packed power pancakes breakfast treat.
Power Pancakes Recipe Summary
Cuisine: American
Course: Breakfast
Skill Level: Moderate
Makes: 18 pancakes
Servings: 6
Prep Time: 10 minutes
Cook Time: 4-6 minutes
Ingredients
2 small overripe bananas
1 cup milk
1/2 cup cottage cheese
1 egg
2 Tbsp honey
1 1/4 cups all-purpose flour
1 1/2 tsp baking powder
1/4 tsp salt
2 Tbsp wheat germ
butter for cooking
Nutritional Information
Calories: 220
Protein: 8 g
Fat: 5 g
Sodium: 238 mg
Carbohydrates: 37 g
Fiber: 2 g
Sugar: 19 g
Directions
In a medium bowl, mash the bananas with a fork or potato masher.
Add the milk, cottage cheese, egg and honey and whisk to blend.
In a separate bowl whisk together the flour, baking powder, salt and wheat germ.
Add the wet ingredients to the dry all at once and mix gently just until incorporated; do not overbeat.
Preheat a heavy cast-iron skillet or griddle over medium heat.
Grease with butter, then pour on the batter, using about 1/4 cup per pancake.
Cook the pancakes for one or two minutes per side, until firm to the touch and golden brown.
Top them with your favorite yogurt and fresh fruit to make a complete meal.
Get Dr. Greene's Wellness Recommendations