Lemon Kale Chips Recipe: Healthy and Yummy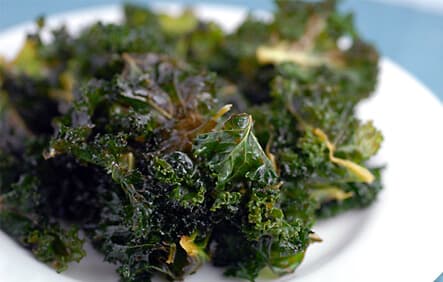 Your kids will love these lemon kale chips.  They are a healthy alternative to greasy chips from a bag. You can use curly kale (as in the photo above), or dino (lacinto) kale or any other type. As an added bonus, these are gluten free.
Lemon Kale Chips Recipe Summary
Cuisine: American
Course: Side Dish
Skill Level: Easy
Makes: 2 Cups
Servings: 4
Prep Time: 5-10 minutes
Cook Time: 10-15 minutes
Ingredients
1 bunch kale (prepared and washed)
2 Tbls olive oli
2 Tbls lemon juice
1/4 tsp celtic sea salt
Nutritional Information
Calories: 73
Protein: 1
Fat: 7
Sodium: 156
Carbohydrates: 3
Fiber: 1
Sugar:
Cholesterol:
Directions
Preheat oven to 350°.
Chop kale into ½ inch pieces.
Place kale in a large bowl.
With hands, massage oil, lemon juice and salt into kale.
Place kale on parchment lined baking sheet.
Bake at 350° for 10-15 minutes until kale is dark green and crispy.
Cool and serve.
Get Dr. Greene's Wellness Recommendations