Hearty Chicken & Tortellini Soup Recipe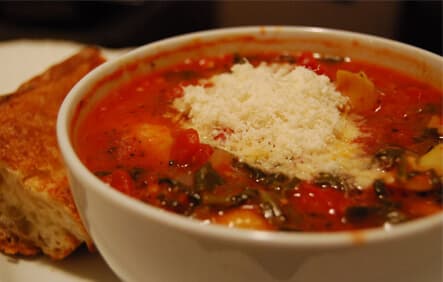 This hearty chicken and tortellini soup fits the bill when you are sick or have sick kids. It is a soup that is quick, nutritious, warm and bubbly, all the right elements for sick-bed comfort food. The beauty of this recipe is its flexibility. You can add almost any ingredients you want. For example, sun-dried tomato chicken sausage or regular sliced chicken breasts or even, pork sausage. If you are a vegetarian you can use vegetable broth and omit the chicken altogether. Use fresh fluffy cheese tortellini or frozen ravioli if you prefer. Feel free to improvise with whatever feels nourishing and comfortable to you.
Hearty Chicken & Tortellini Soup Recipe Summary
Cuisine: Italian
Course: Soup
Skill Level: Easy
Makes: 10 Cups
Servings: 12
Prep Time: 10 minutes
Cook Time: 30 minutes
Ingredients
2 Tbls olive oil
12 oz. chicken sausage, sliced (I prefer sun-dried tomato flavor for this soup)
3 cloves garlic, chopped
1 medium onion, chopped
4 cups chicken broth
2 tsp Italian seasoning
9 oz. fresh cheese tortellini
28 oz. can crushed tomatoes with juice
8 oz. baby spinach, roughly chopped
Salt & Pepper to taste
Parmesan Cheese to taste
Nutritional Information
Calories: 205
Protein: 11
Fat: 10
Sodium: 649
Carbohydrates: 17
Fiber: 2
Sugar: 1
Cholesterol:
Directions
In a deep heavy-bottom pot heat olive oil.
Add garlic, onion and chicken sausage.
Cook until onion is wilted and sausage is cooked through.
Add chicken or vegetable broth and Italian seasoning.
Bring contents to a boil and add tortellini.
Boil just until tortellini is cooked through (don't over cook).
Lower heat, stir in tomatoes and simmer for about 10-15 minutes.
Add spinach and cook until wilted.
Season soup with salt and pepper to our taste.
Serve hot with a generous handful or parmesan on top and a crusty baguette on the side.
Get Dr. Greene's Wellness Recommendations