No Fuss Rice-Cooker Stew Recipe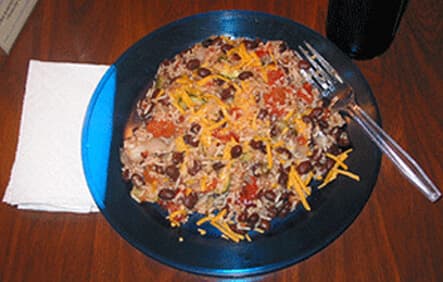 You don't need a whole kitchen to cook. You can make this rice-cooker stew recipe make with just a rice cooker. This is perfect for cooking in a hotel room, dorm room, or where ever you have electricity but no other cooking facilities. It's good at home, too, for those days when you want a fast, no-fuss meal.
By changing the types of beans and flavoring of the tomatoes, you can use the same recipe to make a wide variety of meals. Try kidney beans with chili-style tomatoes, or chick peas with basil, garlic, and oregano. How about black beans with garlic and onions, and pinto beans with jalapeños? So many options for yum!
No Fuss Rice-Cooker Stew Recipe Summary
Cuisine: American
Course: Entrée
Skill Level: Easy
Makes: 4 Cups
Servings: 4
Prep Time: 10-15 minutes
Cook Time: 30 minutes
Ingredients
1/2 cup rice
1 cup water
1 onion, chopped
1 green pepper or zucchini, chopped
1 clove garlic, minced
1 can (15 ounces) diced tomatoes, with seasoning if you like
1 can (15 ounces) rinsed beans
salt to taste
grated or cubed cheese (optional)
Nutritional Information
Calories: 202
Protein: 12
Fat:
Sodium:
Carbohydrates: 39
Fiber: 11
Sugar: 5
Cholesterol:
Direcitons
Put rice, water, chopped onion, chopped green pepper or zucchini, minced garlic, and tomatoes with the juice in rice cooker. Turn cooker on and let it complete its cooking cycle.
Meanwhile, rinse the beans and cut up cheese into 1/4 inch cubes if needed.
When the cooking cycle is done, add beans to rice mixture and stir.
Turn cooker back on to warm the beans for about 2 minutes.
Taste and add salt as needed.
Serve topped with grated or cubed cheese if desired. Refrigerate any extra or throw it away if you don't have access to a refrigerator.
Tip: To rinse beans, drain off any liquid you can. Add water and drain, repeating until rinse water comes out clear. Pour the loose beans into the tomato can, use a fork or spoon to loosen any remaining beans, and rinse the loosened beans. If you don't rinse beans well, the dish will have a metallic taste and may have more BPA from the can lining. Pregnant women and very young children should be especially careful about BPA exposure.
Tip: You can add the beans at the start, but I like to wait. Canned beans are completely cooked to start with, so cooking them longer can make them mushy.
Get Dr. Greene's Wellness Recommendations