Fresh Tomato, Spinach, and Dill Quiche Recipe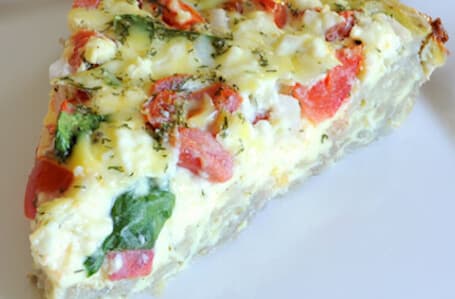 Try this potato crust for my tomato, spinach, and dill quiche, using shredded potatoes instead of sliced potatoes. You can make this quiche for breakfast, lunch or dinner.
Use diced tomato, fresh spinach, dill, red onion, and feta cheese. The dill really makes this dish pop with flavor and you will like the saltiness the feta cheese gives to the quiche. This quiche is very easy to make and quite delicious.
Fresh Tomato, Spinach, and Dill Quiche Recipe Summary
Cuisine: French
Course: Breakfast
Skill Level: Easy
Makes: 1 Quiche
Servings: 8
Prep Time: 10-15 minutes
Cook Time: 42-42 minutes
Ingredients
1 1/2 – 2 russet potatoes, peeled and grated
Olive oil or olive oil cooking spray
1-2 Tbsp red onion, diced finely
1/2 cup of fresh spinach, diced
1 tomato, diced
1/4 cup of feta cheese
7-8 eggs, beaten
1/4 cup of milk
1-2 tsp dried dill
sea salt, to taste
fresh cracked pepper, to taste
Nutritional Information
Calories: 340
Protein: 24
Fat: 15
Sodium: 300
Carbohydrates: 22
Fiber: 2
Sugar: 5
Cholesterol:
Direcitons
Preheat the oven to 375 degrees.
Coat a pie dish with cooking spray.
Peel then shred the two potatoes onto 2 paper towels; add another two paper towels to the top and press all the liquid out of the potatoes.
Smash the shredded potatoes all over the bottom and sides of the pie pan, making sure to press them firmly.
Spray with cooking spray and season with sea salt, freshly cracked pepper, and garlic powder, to taste. Bake in the oven for 12-13 minutes. Remove from oven and set aside.
Sprinkle the diced tomato, spinach, red onion, and half of the feta cheese on top of the potatoes.
Beat the eggs with the milk and season with dill, sea salt, and freshly cracked pepper.
Pour the egg mixture on top of the veggies then top with the remaining feta cheese.
Place in the oven and bake for 30-40 minutes or until a tester inserted in the center of the quiche comes out clean – don't overcook.
Remove from oven and let cool for a few minutes before slicing. Enjoy.
Get Dr. Greene's Wellness Recommendations