Flavorful Spinach and Microgreen Salad Recipe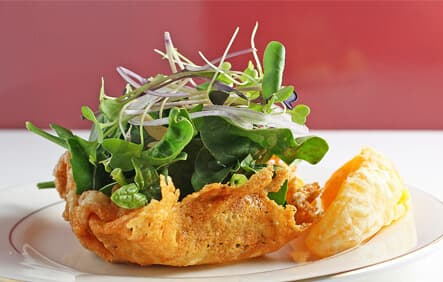 A creative way to add cheese to your salad, this spinach and microgreen salad recipe is fun to make and blends the great flavors of parmesan with orange. In addition, it is an elegant addition to your dinner table.
Flavorful Spinach and Microgreen Salad Recipe Summary
Cuisine: Italian
Course: Salad
Skill Level: Moderate
Ingredients
For the Parmigiano Cups:
1 1/2 cups shredded parmigiano-reggiano
For the Citrus Vinaigrette:
1/4 cup extra-virgin olive oil
1 Tbsp lemon juice
1 Tbsp orange juice
1/2 tsp lemon zest
1/2 tsp orange zest
1 tsp orange blossom honey
1/2 tsp kosher salt
1/2 tsp freshly ground black pepper
For the Spinach Salad:
6 ounces baby spinach leaves (about 6 cups)
fresh microgreens, about a cup
1 orange, cut into segments
1/3 cup sliced almonds, toasted
1/2 red onion, thinly sliced
Nutritional Information
Calories: 236
Protein: 11
Fat: 18
Sodium: 556
Carbohydrates: 9
Fiber: 2
Sugar: 4
Cholesterol:
Direcitons
For the Parmigiano Cups
Preheat a small nonstick pan over medium to medium-high heat.
Sprinkle a small amount of the shredded parmesan over the pan in a thin layer that covers the entire pan, about five inches across (I eyeballed it, but I would guess the amount would be about a quarter cup).
When parmesan is golden brown, hold pan upside down over an upside-down drinking glass set over waxed paper. Gently scrape parmesan out of pan, allowing gravity to help you get it out of the pan.
Working quickly, set parmesan over the cup, immediately centering parmesan so cup forms properly.
Let cool for at least five minutes until completely cool and hardened. Move carefully as they are very fragile!
These can be made several hours in advance and kept under loose plastic wrap until ready to assemble salad.
For the Citrus Vinaigrette
Combine all the ingredients in a jar or a tight-sealing plastic container. Shake to blend.
This can be made up to 24 hours in advance and kept in a sealed container in the refrigerator.
For the Spinach Salad:
In a large bowl, combine all the ingredients.
Drizzle with vinaigrette and toss to combine.
Divide the salad among the parmesan cups, top with microgreens and serve immediately.
Get Dr. Greene's Wellness Recommendations