Apple Oatmeal Muffins Recipe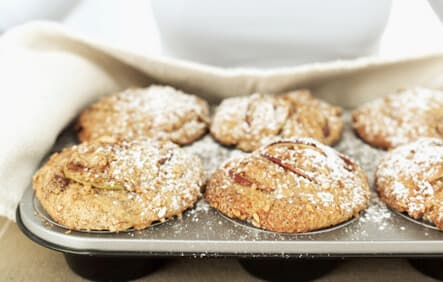 This apple oatmeal muffins recipe is low in calories because it uses no oils or fats. For sweetness it uses fresh apple, apple juice, honey and molasses. This is a very nice alternative to traditional high fat and sugar muffins.
Apple Oatmeal Muffins Recipe Summary
Cuisine: American
Course: Breakfast
Skill Level: Easy
Makes: 12
Servings: 12
Prep Time: 10-15 minutes
Cook Time: 23-30 minutes
Ingredients
2 cups barley flour
1 cup old fashioned rolled oats
1 Tbsp baking powder
2 1/2 tsp cinnamon
1 tsp nutmeg
1 cup rice milk
2 eggs
1 tsp pure vanilla
1/4 cup honey
1/4 cup unsulfured molasses
1/2 cup apple juice
1 cup grated apples
Nutritional Information
Calories: 150
Protein: 4 g
Fat: 4 g
Sodium: 228 mg
Carbohydrates: 22 g
Fiber: 3 g
Sugar: 13 g
Directions
Preheat oven to 325 degrees and spray a muffin pan with butter flavored nonstick spray.
Mix the dry ingredients together.
Add the liquid ingredients.
Mix all ingredients together until just combined.
Fill muffin cups half full.
Bake for 23-30 minutes.
Cool to room temperature and remove from pan.
Hint
If you make larger muffins, be sure to spray the muffin tin with oil before filling.
Get Dr. Greene's Wellness Recommendations