Egyptian Lentils and Brown Rice Recipe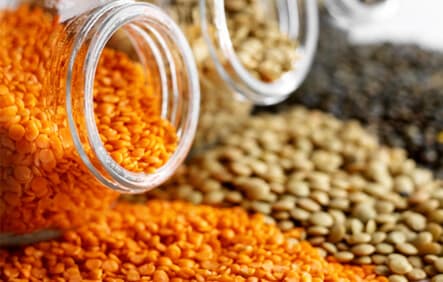 Looking for a way to add more fiber to your diet? These Egyptian lentils are the perfect way. The layers of tomatoes and onions topped with fresh yogurt add complexity to this delicious dish.
Egyptian Lentils and Brown Rice Recipe Summary
Cuisine: Egyptian
Course: Entrée
Skill Level: Moderate
Ingredients
4 Tbls olive oil, divided
1 1/4 cup lentils
4 cups boiling water or stock, divided
1 1/2 cups brown rice
3/4 cup tomato paste
3 cups tomato juice, sauce, or chopped or diced tomatos
1 green pepper chopped
1 Tbls sugar
1 1/2 tsp salt
1 tsp cumin
1/4 tsp cayenne pepper or crushed chilis
3 onions, sliced
4 cloves garlic, minced
Plain yogurt for topping
Nutritional Information
Calories: 448
Protein: 13
Fat: 13
Sodium: 748
Carbohydrates: 71
Fiber: 8
Sugar: 12
Cholesterol:
Directions
Lentil and Rice Layer
Heat 2 tablespoons of oil in heavy saucepan and then add lentils over medium heat.
Heat 5 minutes stirring often.
Add 3 cups water or stock, 1 teaspoon salt and a dash of pepper. Cook uncovered 10 minutes over medium heat.
Stir in brown rice, 1 cup of boiling water or stock. Bring to boil then reduce heat to low, cover and simmer 25-45 minutes, stirring.
Sauce Layer
Heat tomato paste, tomato juice, green pepper, sugar, 1/2 teaspoon of salt, cumin, and cayenne in a saucepan together.
Bring sauce to boiling, reduce heat and simmer 20-30 minutes.
Onion Layer
Over medium heat add remaining oil in skillet, and saute onions and garlic.
Heat until browned.
To Serve
Put rice-lentil mixture on a platter, pour tomato sauce over, followed by onion layer.
Top with plain yogurt.
Get Dr. Greene's Wellness Recommendations