Dr. Greene's Favorite Holiday Stuffing Recipe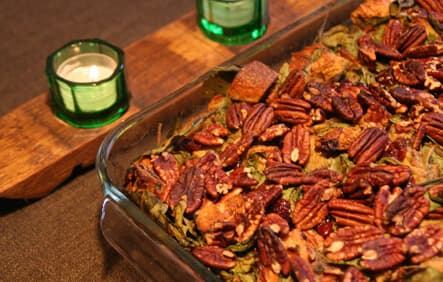 Looking for a non-traditional stuffing? This flavorful and nutritious holiday stuffing is a staple of the Greene family Thanksgiving. The spinach, pecans and dried cranberries complement traditional savory herbs to create a more complex version of the dish served in most families with added protein, fiber and nutrients. But why wait for Thanksgiving?
Flavorful and Nutritious Holiday Stuffing Recipe Summary
Cuisine: American
Course: Side Dish
Skill Level: Easy
Makes: 18 Cups
Servings: 16
Prep Time: 10-15 minutes
Cook Time: 45 minutes
Ingredients
8 cups Whole Grain Bread Crumbs
4 cups Spinach, Fresh
1 Onion, Yellow
Fresh Holiday Herbs
1/2 teaspoon Oilve Oil
3/4 cup Pecans
3/4 cup Cranberries, Dried
2 cups Vegetable Stock
2 Eggs
Nutritional Information
Calories: 335
Protein: 10
Fat: 11
Sodium: 541
Carbohydrates: 48
Fiber: 4
Sugar: 8
Directions
Saute chopped onion in olive oil.
Coarsely chop the fresh herbs and add to onion mixture.
Add 1/2 the pecans and toast lightly.
Combine whole grain breadcrumbs, thawed spinach, dried cranberries, and onion mixture. Stir to mix well.
Combine one cup of the vegetable stock with eggs and mix.
Pour vegetable stock mixture over breadcrumbs and stir. Add additional stock until the bread is moist throughout, but not wet. The spinach will keep the stuffing moist as long as you don't over cook it.
Cover and bake at 350 degrees for 30 minutes.
Remove the cover, top with remaining pecans and bake for 15 minutes.
Notes: You can leave the spinach out of the freezer the night before to thaw. If you forget to put it out early enough to thaw at room temperature, put it in a colander and run warm water over it to speed the thawing process.
Get Dr. Greene's Wellness Recommendations