Delicious Pumpkin Chia Seed Muffins Recipe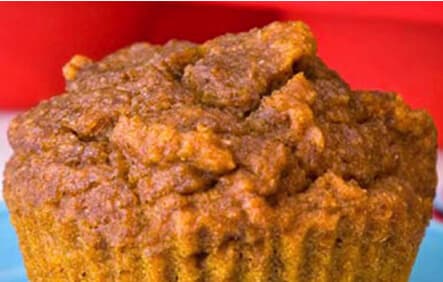 These pumpkin chia seed muffins are delicious. Enjoy them hot out of the oven and keep extra for lunchtime snacks for the kids (or you) during the week. Pumpkin is loaded with an important antioxidant, beta-carotene. Beta-carotene is one of the plant carotenoids converted to vitamin A in the body. In the conversion to vitamin A, beta carotene performs many important functions in overall health. Current studies link diets rich in foods with beta-carotene to reducing the risk of certain types of cancer and protection against heart disease. Chia seeds can be found at most health food stores.
Pumpkin Chia Seed Muffins Recipe Summary
Cuisine: American
Course: Breakfast
Skill Level: Easy
Makes: 24
Servings: 24
Prep Time: 10-15 minutes
Cook Time: 25-30 minutes
Ingredients
1 Tbsp chia seeds, ground (use a coffee or spice grinder)
1 cup whole wheat or whole grain flour
1/2 cup white unbleached flour
2 teaspoons cinnamon
1/2 teaspoon nutmeg
2 teaspoons baking soda
1/2 teaspoon salt
1 can (16 oz) organic pumpkin (make sure only pumpkin is in the ingredients)
2 eggs
1/4 cup high-quality extra-virgin olive oil
1/2 cup agave nectar (or 1 cup maple syrup)
1 tablespoon vanilla
*1/2 cup chopped walnuts or pecans, optional .
Nutritional Information
Calories: 84
Protein: 3
Fat: 4
Sodium: 162
Carbohydrates: 8
Fiber: 2
Sugar: 1
Cholesterol:
Direcitons
Preheat oven to 350 degrees.
Mix dry ingredients together in a bowl. In a separate bowl, mix all wet ingredients.
Fold the wet ingredients (fold in nuts now if you are using them) into the dry ingredients and spoon into paper-lined muffin or greased muffin tins.
Bake for 25-30 minutes or until a toothpick inserted into the middle of a muffin comes out clean.
Store completely cooled muffins in sealable plastic bags in the freezer.
Get Dr. Greene's Wellness Recommendations