Delicious Chard and Yam Soup Recipe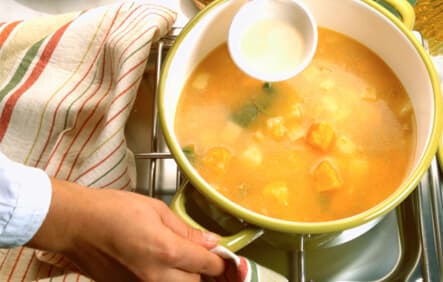 You can think of this simple and tasty chard and yam soup as a "starter soup" – even someone who has never cooked could make this without any trouble. The amounts are pretty flexible, the technique basic, and the result delicious. Like many soups, this one really adapts to your taste with its garnishes. Try it with a spoonful of smoky salsa, or some crumbled queso fresco, or a plain white goat cheese. A drizzle of fruity olive oil on each serving is great, as are home-made croutons.
Delicious Chard and Yam Soup Recipe Summary
Cuisine: American
Course: Soup
Skill Level: Easy
Makes: 9 Cups
Servings: 6
Prep Time: 20 Minutes
Cook Time: 50 Minutes
Ingredients
1 large yellow onion (300 g.)
1 Tbls. olive oil
1-2 cloves garlic, chopped
1 large yam, about 12 oz. (350 g.)
6-7 green onions, white and green parts (100 g.)
6 cups vegetable broth (p. 47, or canned broth, diluted) (1½ liters)
1 bunch Swiss chard, about 12 oz. (350 g.)
Fresh ground black pepper
A dash fresh lemon juice
Optional Garnish : Simple Chipotle Sauce, or other salsa, crumbled queso fresco, feta cheese, or other goat cheese, or fruity olive oil.
Nutritional Information
Calories: 125
Protein: 3
Fat: 2
Sodium: 1070
Carbohydrates: 25
Fiber: 4
Sugar: 4
Directions
Chop the onion coarsely and sauté it in the olive oil, stirring often on medium heat until it is soft and beginning to color.
Add the chopped garlic, and keep cooking on a low flame, stirring often, until the onion is golden brown, about fifteen more minutes.
Meanwhile, peel the yam and cut it in 1/2″ cubes.
Wash the chard, slice the greens off the stems, and cut the leaves into 1-2″ pieces. Thinly slice the chard stems.
Wash and trim the green onions and cut them in 1/2″ pieces.
Combine the yams, chard, green onions and broth in a soup pot and simmer gently, covered, for about twenty minutes.
Add the sautéed onions to the soup, and simmer another ten minutes, then taste. Add fresh ground black pepper, and some lemon juice to taste.
Ladle steaming hot soup into deep bowls, drizzle the top of each serving with some fruity green olive oil, drop a few crumbles of feta cheese on top, and pass a bowl of simple salsa.
Get Dr. Greene's Wellness Recommendations