Crock Pot Carnitas with Avocado and Cilantro-Lime Cabbage Recipe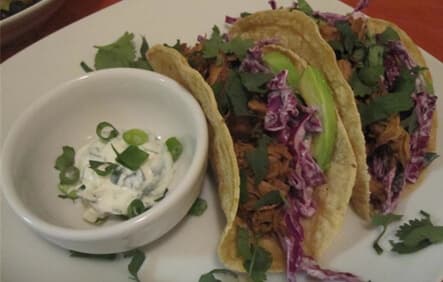 Crock pot carnitas is a home run dinner for sure! The pork is so tender when it finishes cooking that you are able to shred it using just your wooden spoon (seriously). The pureed chipotle in adobo offers a subtle heat that perfectly compliments the citrus-y cabbage. Round out your meal by offering a fresh fruit salad full of whatever looks best at the farmer's market.
Crock Pot Carnitas with Avocado and Cilantro-Lime Cabbage Recipe Summary
Cuisine: Mexican
Course: Entrée
Skill Level: Moderate
Makes: 8
Servings: 4
Prep Time: 20-30 minutes
Cook Time: 6 hours
Ingredients
1 – 1 ¼ pound pork tenderloin
1 diced red onion
3 cloves garlic, minced
3/4 cup dry white wine
2 Tbsp white wine vinegar
1 tsp pureed chipotle in adobo
2 tsp chili powder
1 tsp cumin
3/4 tsp sea salt
1/2 tsp fresh ground black pepper
1/2 cup sour cream
1 lime, juiced and zest
2 scallions
8 to 10 corn tortillas
1/4 to 1/2 head red cabbage
2 avocados, thinly sliced
1/4+ cup cilantro
Nutritional Information
Calories: 695
Protein: 47 g
Fat: 28 g
Sodium: 479 mg
Carbohydrates: 53 g
Fiber: 15 g
Sugar: 10 g
Directions
To make the cilantro-lime cream sauce, combine sour cream, lime juice and zest, 1/4 cup chopped cilantro, 1 scallion minced, 1/4 tsp sea salt, and 1/4 tsp fresh ground black pepper.
Cover and refrigerate the sauce until ready to use.
Thinly slice about ¼ head of red cabbage. Cover and refrigerate until ready to use.
Dice one red onion and set aside.
Mince 3 cloves garlic and set aside.
To prepare the carnitas slice pork tenderloin into 1-inch slices and transfer to a 5 – 6 quart slow cooker.
Add diced red onion, minced garlic, white wine, white wine vinegar, chipotle in adobo, chili powder, cumin, 1/2 tsp sea salt, and 1/4 tsp fresh ground black pepper. Stir to combine.
Set slow cooker on lowest setting (but not the warm setting) and let cook for 6 hours.
To put it all together, when there is about 15 minutes remaining for pork, heat a large flat skillet over high heat for about 5 minutes. When hot, heat tortillas for 1 minute per side in dry skillet. This needs to be done in batches so that tortillas are in direct contact with skillet.
Meanwhile, toss cabbage with about half of the cilantro-lime cream sauce.
When pork is cooked, remove lid from slow-cooker, and use a wooden spoon to shred the pork.
Stir thoroughly so that the pork absorbs the remaining liquid and integrates well with the onion and garlic.
Just before serving, thinly slice the avocados (if you slice too early they will brown).
Place 2 avocado slices on one side of each tortilla.
Add the pork mixture and shredded red cabbage.
Garnish with additional cilantro and/or scallions, if desired.
Place remaining cream sauce tableside for dipping.
Serve the crock pot carnitas with fresh seasonal fruit and enjoy!
Note: Preparations "hands on" time, 10 – 15 minutes. Slow cooker time, 6 hours. Pulling it all together, 10 – 15 minutes.
Get Dr. Greene's Wellness Recommendations