Colorful & Delicious Holiday Salad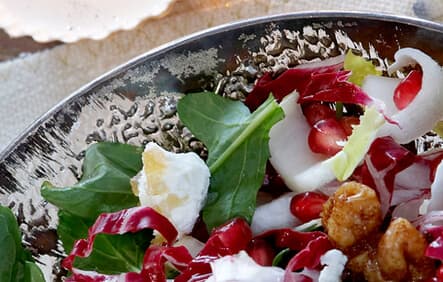 Persimmons, the quintessential winter fruit, bring both color and flavor to this delicious holiday salad. The candied ginger, goat cheese, and spiced nuts add some excitement to its traditional Italian flavors. Shopping seasonally and, of course, locally whenever possible saves fuel, water, and other energy costs from not having food trucked in from far away places.
Colorful & Delicious Holiday Salad Summary
Cuisine: Italian
Course: Salad
Skill Level: Moderate
Makes:
Servings:
Prep Time: 20-25 minutes
Cook Time: 4 minutes
Ingredients
2 Tbsp unsalted butter
1 cup walnut pieces
2 Tbsp brown sugar
1/2 tsp ground cinnamon
1/2 tsp ground cumin
1/4 tsp salt
2-1/4 Tbsp balsamic vinegar
3/4 tsp agave nectar or honey
1/2 tsp salt
1/2 tsp freshly ground pepper
4-1/2 Tbsp extra-virgin olive oil
4 oz soft goat cheese, at room temperature
2 tsp finely chopped candied ginger
5 to 6 oz baby arugula or mixed baby greens
3 heads Belgian endive, finely sliced
1 small head radicchio, finely sliced
2 small firm Fuyu persimmons, finely sliced
1 cup pomegranate seeds
Nutritional Information
Calories: 335
Protein: 11 g
Fat: 25 g
Sodium: 366 mg
Carbohydrates: 18 g
Fiber: 9 g
Sugar: 7 g
Directions
To Make Dressing
In a small bowl, stir together the vinegar, agave nectar or honey, salt, and pepper until well blended.
Whisk in the olive oil until mixture has emulsified. Set the dressing aside.
To Make Spiced Nuts
Line a baking sheet with parchment paper.
Melt the butter in a medium pan over medium-high heat. Add the walnuts and cook for 3 minutes, stirring constantly.
Add the sugar, spices, and salt and stir for 1 more minute.
Transfer the walnuts to the baking sheet, making sure the nuts are separated. Let cool for at least 15 minutes.
To Make Spiced Goat Cheese
In a small bowl, combine the goat cheese and candied ginger.
Cover and place in the refrigerator for 30 minutes, or until ready to serve.
To Assemble Salad
Place the arugula or baby greens, endive, radicchio, persimmon pieces and pomegranate seeds in a medium bowl.
Pour the dressing over the top and gently toss until evenly coated.
Place the salad on individual plates and crumble the goat cheese and ginger evenly over each.
Top with spiced walnuts.
Get Dr. Greene's Wellness Recommendations