Caribbean Lime Halibut Recipe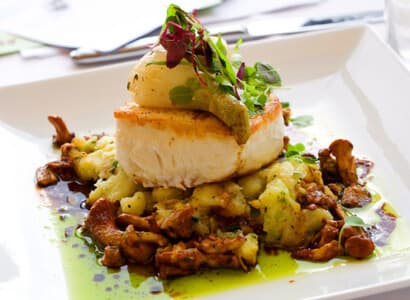 This Caribbean lime halibut recipe is a very easy and delicious way to prepare fish. Pan-frying to start seals the juices in so this is not a dry fish. Three tablespoons of Lime Boost can be substituted for lime and sugar. Slightly sweeter but works just as well.
Caribbean Lime Halibut Recipe Summary
Cuisine: Caribbean
Course: Entrée
Skill Level: Easy
Makes: 1 pound
Servings: 4
Prep Time: 1 hour to marinate, 15 minutes active
Cook Time: 9-12 minutes
Ingredients
1 Tbsp tamari (soy sauce)
3 Tbsp extra-virgin olive oil
1 Tbsp grated ginger root
3 Tbsp lime juice
1 tsp sugar
3-4 cloves garlic, minced
1 pound halibut filet
Nutritional Information
Calories: 230
Protein: 26
Fat: 12
Sodium: 323
Carbohydrates: 3
Fiber:
Sugar: 1
Cholesterol:
Direcitons
Put tamari, 2 tablespoons of oil, gingerroot, lime juice, sugar, and garlic in a small mixing bowl; whisk together.
Place fish in a shallow pan and pour marinade over the top. Allow to marinate ½ – 1 hour in the refrigerator.
Preheat oven to 400 degrees F.
Heat 1 tablespoon of olive oil in an oven-proof skillet, cast iron is good.
Place halibut in the pan, skin side up and sear for one minute, turn and sear second side for one minute.
Leave fish in the skillet and place in oven. Bake until fish is almost cooked through, about 7-10 minutes.
Remove skillet from oven and place on stove over low heat (skillet will be very hot from the oven).
Add remaining marinade, letting the liquid heat and reduce before serving.
Get Dr. Greene's Wellness Recommendations