Basil Green Beans Recipe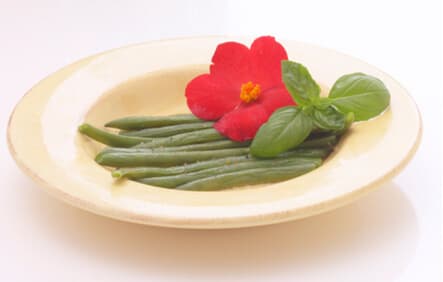 This basil green beans recipe is a new twist on a classic veggie. The great flavor of basil with the sweet taste of green beans is a must try.
Basil Green Beans Recipe Summary
Cuisine: American
Course: Side Dish
Skill Level: Easy
Makes: 3 Cups
Servings: 4
Prep Time: 12 Minutes
Cook Time: 12-17 Minutes
Ingredients
1 lb. fresh green beans
1 Tbsp. minced spring onion
1/2 tsp. olive oil
1 tsp. dried basil leaves
1 tsp. garlic powder
Dash pepper
Nutritional Information
Calories: 46
Protein: 2
Fat: 1
Sodium: 7
Carbohydrates: 8
Fiber: 1
Sugar:
Cholesterol:
Directions
Trim and snap green beans into thirds. (You can do this ahead of time.)
Mince onion.
Put water on to boil to steam beans. As soon as water boils, steam beans for 10 to 15 minutes or until tender.
Sauté onions until tender. in olive oil.
Add steamed beans, basil, garlic powder and pepper.
Toss beans with basil sauce to coat evenly and serve.
Get Dr. Greene's Wellness Recommendations