Banana French Toast Recipe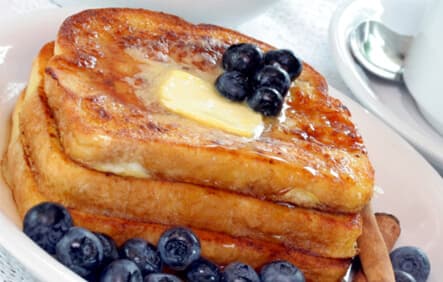 This banana french toast recipe is made without eggs. You can use your favorite gluten-free bread and dairy-free milk to create a real treat for the whole family — even those who can't have eggs, dairy or gluten.
Banana French Toast Recipe Summary
Cuisine: American
Course: Breakfast
Skill Level: Easy
Makes: 6 pieces of bread
Servings: 4
Prep Time: 10 minutes
Cook Time: 15 minutes
Ingredients
3 ripe bananas
3/4 Cup: Dairy-Free milk
1 1/2 tsp: cinnamon
1/2 tsp: pumpkin pie spice, optional
2 tsp: vanilla
6 slices of gluten free bread, any kind is fine (Note that the Allergy Status of this recipe depends on what kind of bread you use)
2 Tbsp: coconut oil, for pan
Nutritional Information
Calories: 291
Protein: 4 g
Fat: 6 g
Sodium: 212 mg
Carbohydrates: 51 g
Fiber: 7 g
Sugar: 15 g
Directions
Blend bananas, milk, cinnamon, pumpkin pie spice and vanilla in blender or food processor and pour mixture into pie plate or wide dish.
Gently dip bread slices into the mix, coating both sides.
Fry in oil in medium-hot skillet until golden brown.
Serve with maple syrup, if desired, and enjoy.
Get Dr. Greene's Wellness Recommendations