Baked Tomatoes with Herbs & Parmesan Recipe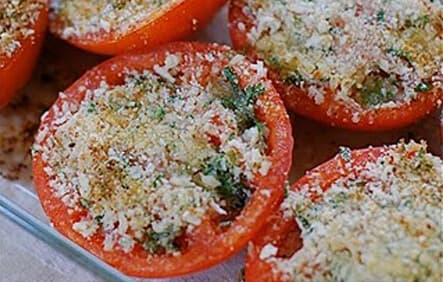 Baked tomatoes are great to make when tomatoes are in season and readily available. Drizzle the tomatoes with a generous coating of olive oil and stuff with a mixture of Parmesan and herbs.
You can prepare this earlier in the day and keep in the fridge until time to roast them for dinner. Easy and delicious, this is a great way to celebrate summer flavor.
Baked Tomatoes with Herbs & Parmesan Recipe Summary
Cuisine: American
Course: Side Dish
Skill Level: Easy
Makes: 10 Tomato Halves
Servings: 5
Prep Time: 10 minutes
Cook Time: 25-30 minutes
Ingredients
5 large tomatoes
1 c. olive oil
1/2 c. freshly grated Parmesan Cheese
1/2 c. bread crumbs (plain or Panko)
1/4 c. freshly chopped Parsley
Nutritional Information
Calories: 461
Protein: 3
Fat: 43
Sodium: 106
Carbohydrates: 15
Fiber: 3
Sugar: 5
Cholesterol:
Directions
Preheat oven to 350ºF. Cut the tomatoes in half and scoop of the seeds with a spoon. Nestle each half, cut side up, in a baking dish.
Drizzle the tomatoes with the olive oil and pat around them to make sure they are nicely coated.
Mix the breadcrumbs, cheese and parsley together in a bowl. Pat even amounts into each tomato. Bake for 25-30 minutes until the tops are golden brown and the cheese is slightly melted.
Variations and Ideas: Other herbs like thyme, rosemary or basil would be delicious in this. It would also be great if you wanted to mix the herbs make flavors all your own.
Note
My daughter would only eat hers after I'd cut it up and tossed it with pasta. But my husband and I devoured them just as they were!
Get Dr. Greene's Wellness Recommendations