Baked Eggs Recipe: Simple Brunch Idea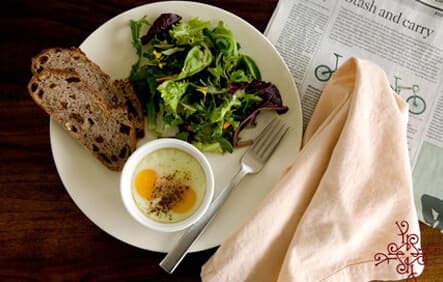 There are millions of ways to use eggs – but I want to offer you a simple brunch idea. It takes longer than scrambling, or frying, but the pay off of this baked eggs recipe is huge and so yummy with an herb salad and piece of crusty bread.
Baked Eggs Recipe Summary
Cuisine: American
Course: Breakfast
Skill Level: Easy
Makes: 4 eggs
Servings: 2
Prep Time: 4 minutes
Cook Time: 15 minures
Ingredients
4 farm fresh organic eggs
1 Tbsp butter
water
sea salt, to taste
fresh ground black pepper, to taste
Nutritional Information
Calories: 496
Protein: 41
Fat: 30
Sodium: 453
Carbohydrates: 3
Fiber:
Sugar: 2
Cholesterol:
Direcitons
Preheat oven to 350.
Grease 2 ramekins with butter.
Fill oven-proof dish with water to half the height of ramekin and place the ramekins in the dish.
Carefully break 2 eggs in each ramekin.
Salt and pepper the eggs and place dish with ramekins in the oven.
Bake for about 15 minutes, or until the whites are just set. Be careful not to over cook.
Serve in ramekin with simple herb salad and some crusty bread.
Get Dr. Greene's Wellness Recommendations