Apples and Spice and Everything Nice Recipe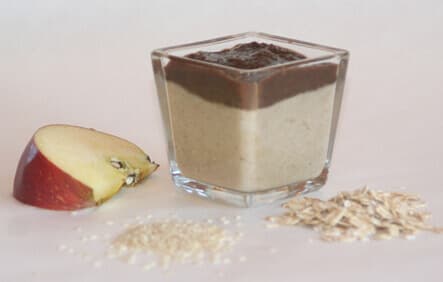 Layers of goodness make apples and spice and everything nice a tasty baby food the whole family will enjoy. This baby food will teach your child how to love healthy flavors from a young age — and you'll enjoy eating this dish as a family for years to come.
Note: This recipe makes breakfast for baby and two adults :)
Apples and Spice and Everything Nice Recipe Summary
Cuisine: American
Course: Baby Food
Skill Level: Easy
Makes: 1 1/2 Cups
Servings: 3
Prep Time: 10 minutes
Cook Time: 10 minutes
Ingredients
1/8 Cup Raisins
1/2 Cups Hot Water
2 Teaspoons Sunflower Seeds
1/2 Cup Fuji Apple Shredded
1 Teaspoon Sesame Seeds
1/4 Teaspoons Cinnamon
1/4 Cup Old Fashioned Whole Oats (3/4 Cup of oats when cooked)
Nutritional Information
Calories: 121
Protein: 4
Fat: 4
Sodium: 2
Carbohydrates: 18
Fiber: 4
Sugar: 3
Cholesterol:
Directions
Pour the boiling water over raisins. Let stand for 5 minutes. Drain the water from the raisins and set aside.
Grind oats in blender. Set aside.
Toast the sunflower and sesame seeds in a dry pan.
Add the apples to the seeds and sauté until soft – about 3 minutes over medium heat – stirring constantly. Blend this mixture to a puree.
Stir the water from the raisins into the oat powder.
Stir in apple mixture and cinnamon.
Puree raisins in a blender.
Serve the warm apple, oat, cinnamon mixture on the bottom topped with the raisin puree on top.
Get Dr. Greene's Wellness Recommendations