Anti-inflammatory Curcumin Scramble Recipe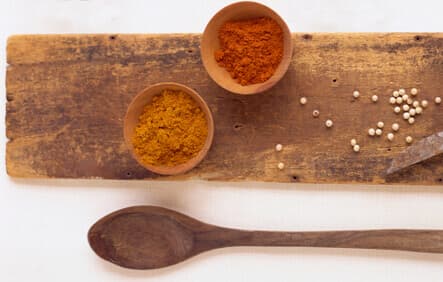 Food as medicine — this curcumin scramble nourishes and heals you at the same time.
Anti-inflammatory Curcumin Scramble Recipe Summary
Cuisine: American
Course: Breakfast
Skill Level: Easy
Makes:
Servings: 2
Prep Time: 5 minutes
Cook Time: 5 minutes
Ingredients
4 large eggs (if you prefer, substitute two egg whites for one of the eggs)
Pinch salt and ground black pepper
1 tsp curcumin (turmeric) powder
2 Tbls milk or water (milk will make the eggs denser and creamier; water, fluffier and lighter)
1 Tbls olive or grape seed oil
1/2 tsp grated Parmesan
Sprinkling of chopped chives
Nutritional Information
Calories: 383
Protein: 31
Fat: 24
Sodium: 343
Carbohydrates: 3
Fiber:
Sugar: 2
Cholesterol:
Directions
In a medium-sized mixing bowl, use a fork to mix eggs, salt, pepper, and curcumin powder. (Be very careful with the curcumin powder: it will dye everything it touches a bright, summery yellow.)
Add olive or grape seed oil to a large sauté pan or skillet, and set your burner to medium-low heat.
While the oil is heating, stir milk or water into your egg mixture.
When oil is hot, pour egg mixture into pan or skillet. Let eggs set for 15-20 seconds before gently scrambling with a wooden spatula.
Add Parmesan. Let set for another 15 seconds, and gently scramble again.
Repeat until eggs look almost but not quite cooked. (They'll continue to cook on the plate.)
Serve, and add a sprinkling of chives to each dish for garnish.
Get Dr. Greene's Wellness Recommendations