11 Best Educational Apps & Web Sites for Kids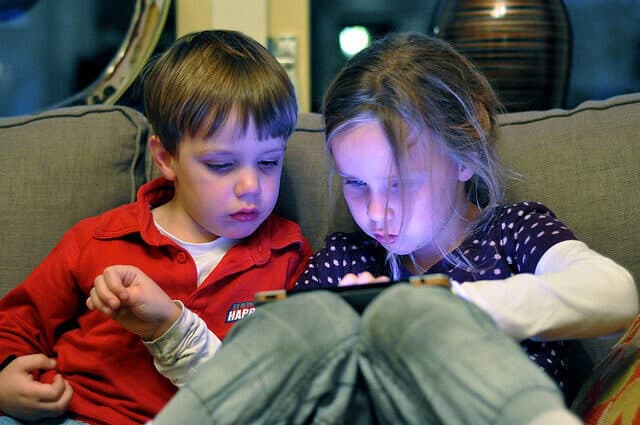 Most pediatricians agree that a little bit of screen time each day is okay for kids. According to the American Academy of Pediatrics, children over 2 should be limited to 2 hours of "recreational screen time" per day. In our house, we try to limit recreational screen time to one hour per day, but because we homeschool our kids do a lot of educational work online. And they love it! Our kids race through their work so they can get to their computers to use educational apps we've discovered.
Here are my picks for the best 10 educational apps and web sites for kids:
1)    Khan Academy
Every parent needs to know about Khan Academy. This entirely free website and not-for-profit organization is committed to "changing education for the better by providing a free world-class education for anyone anywhere." It's incredibly easy to use, there are no ads, and it's appropriate for any school-aged child. There is a beautiful story about how this organization started, when a man wanted to help his cousin who was struggling with math. It's now a global organization that is funded by donations from multiple big-names like The Bill and Melinda Gates Foundation and Google. Although Khan academy started as a math-learning site, you can now learn just about anything there. Your child starts with a tutorial and pre-test that designs a customized learning plan just for them. Kids are encouraged with reward "badges" when they complete work. Log in as a parent and start and account for your family. Kids can have individual usernames and passwords that all link to one parent's email address. You can also just watch Khan Academy videos on YouTube without registering. There is no official Khan Academy app, but there are several people who have made apps using Khan Academy material. Oh, and grown-ups can use Khan Academy too!
2)    Scratch
Scratch is a free online tool designed by MIT to help kids learn programming. Kids design their own computer games, art, and applications, and then share them with the rest of the online community, so everyone else gets to try it! You child will get comments from real users about their game, and see how many people viewed their project. Most kids start by just playing other people's games, and then looking at how they built the program. Before long your kids will be programming, too. Scratch is good for kids ages 7-adult. My son is long past me…
3)    Google Earth (website and app)
Want your kids to learn geography and astronomy all on one site? Just let them go on Google Earth. There are no ads and it is free. My kids will spend several hours a day on Google Earth if I let them. "Mom, how come Red Square isn't red?" my son asked the other day. You can zoom in and out on the Earth, and anything in the Milky Way. Through satellite imagery, maps, terrain, and 3D buildings our kids explore in detail all the points of interest of the whole world and space—the opportunities are limitless. My kids now educate me on dwarf planets and remote islands in Oceania.
4)    Brainscape (website and app)
Brainscape is an online flashcard-based learning system that uses "an optimized version of spaced repetition" that they call "Confidence-Based Repetition." They've used cognitive science to help maximize learning and retention. It's free if you enter your own flashcards, or you can buy learning modules on just about any topic. Brainscape is especially effective for learning languages and memorizing facts. You can enter your flashcard content online and then use your mobile device to practice whenever you get a chance. We use Brainscape for learning languages and it has really helped my kids more than traditional flashcards and drills, and they like doing it. I'm impressed with their customer service, especially for a free site. I had some trouble syncing my mobile app with the website, so I posted a note on their Facebook site. Someone answered my question in about a half hour!
5)    IXL (website and app)
Online math offers more visual teaching than any book or parent could ever provide. Our kids use IXL.com every day to supplement their homeschool curriculum. It's a comprehensive K-12 online math program, plus grade-school language arts. Kids do lots of practice problems and earn simple online prize pictures for completing milestones. Each skill adjusts to your child's level—if you get enough problems right it skips to the end, but if you get some wrong you have to do more. Our kids like it because you can skip around and try skills of every type, even those outside of your grade level. Your child can do a few sets of problems per day for free, or you can subscribe for $9.99 per month or $79 per year for a family membership.
6)    Dream Box (website and app)
Dreambox is an online math learning too that looks, runs, and acts like a video game but really does an excellent job teaching complex math. Our public school district used to use it, but parents can subscribe at home, too. It's an expensive paid service, with plans starting at $12.95/month or $59.95/6 months for one child, but you can get a one month free trial. It's appropriate for ages pre-K through high school. Younger kids pick their avatar and explore imaginary worlds of pixies, pirates, dinosaurs, and little pets. Short video segments teach math and engage kids in the imaginary stories. All of the math is highly visual, illustrated with pictures, graphs, number lines, puzzles, etc. Students earn coins from learning modules that they can then spend at the "carnival" playing games. Older kids use similar avitars and earn chances to unlock and play a variety of level-appropriate math games. We used Dreambox almost daily for two years, but our kids finally got tired of it and asked to switch to IXL. We give them a choice once per year, when our membership runs out, which program they want to use.   Unlike IXL, Dreambox doesn't let kids skip around too much. At any given time they can pick from about 4 different skills. If they get to a hard skill they have to master it before they can move on too much in the program. You can't just ignore the hard stuff, which is great, but you can't try stuff above your level either. One of our children, who struggles with math, managed to spend 30 minutes each day just watching pixy videos and playing free games in the carnival instead of doing math. Also, if anyone helps your child too much, they will be inappropriately advanced in the system and the math will be too hard. It's very hard reset the system to get your child back to an appropriate level.
7)    PBSKids (website and multiple related apps)
Every young child I know plays PBSKids—it's loaded with characters they love and it's free with no ads. It's a huge site with enormous amounts of content so kids won't get board. But I don't love PBSKids. The education to entertainment ratio is just too high. Kids might learn a few facts or concepts, but it's not always a good use of their time. There's a lot of video content, and many kids just turn their computer into a TV once they get to the site. I'll often catch my older kids playing games that are below their level, so although they still enjoy the game there is no educational value. We do let our kids play PBSKids, but we consider it recreational screen time. Most of their apps are not free, and I've tried a few, but again, I find them to be mostly recreational with a bit of education added.
8)    ABCMouse
ABCMouse.com is a preschool and Kindergarten online educational website that offers a more comprehensive curriculum than PBSKids and tracks your child's progress. It is a paid service for $7.95 per month or $79 per year, but you can get a 30 day free trial. We've used it for three of our children and they love it. There's a ton of content and they will never run out of new things to do. It's possible to totally waste your time on this site, though. You earn prize tickets for each activity completed, and you can use them to buy all kinds of crazy things for your virtual room, yard, and avatar. Our kids quickly learned how to cheat by doing too many easy activities and would waste time collecting tickets and buying dream beds and exotic pets for their avatar. Once we redirect them, though, they get back to all the excellent content like virtual books, reading, and math activities. Kids can almost always make any activity easier, though, so they never really have to push themselves too much. It's a good tool to drive home preschool concepts that you've already taught.
9)    ABCya (website and multiple related apps)
ABCya is a free website full of educational games for grades K-5, all of it designed by teachers. It's all games, no videos, so kids stay interactive. Their content is very good—most of it is truly educational. You do not need to create an account or give out your email address to use the site. There are ads and they also advertise for-profit related apps.
10) Starfall (website and associated apps)
Starfall teaches reading through phonics and is appropriate for pre-K through 2nd grade. It's free, there are no ads, and you don't have to set up an account. It's a great supplement to any early childhood reading curriculum. They do have a "store" page that sells educational materials and their curriculum.
11) Spatulatta
Spatulatta is a cooking website just for kids, with more than 350 video recipes for kids to watch and try. This site isn't anything like the others on this list, but I just had to include it because cooking with kids teaches life skills, nutrition, measurement, responsibility, and safety. And, it's a great way to spend quality time with your kids after a long day. Spatulatta will get your kids excited to cook. A nice feature of this site is "The Recipe Box," a search tool that kids can use to look for recipes by meal, holiday, ingredient, cuisine, or vegan/vegetarian. It's free, but there are ads, and you need an email address to use the the recipe box feature.
No matter how educational and fabulous a website is, kids need to limit their screen time.
Children under age 2 should not have any screen time. It's very important for brain development for kids to learn how to entertain themselves, without screens. They can't always expect to have someone telling them what they are supposed to do next. Children need to get bored sometimes so that they can learn creative play.
Here's my article about what to do when your kids say, "I'm bored!"
Get Dr. Greene's Wellness Recommendations